Spring Bank Holiday and Platinum Jubilee Online Customer Service Opening Times:
Thursday 2nd June: 9am - 12noon
Friday 3rd June: Closed
Daktarin - Everything You Need To Know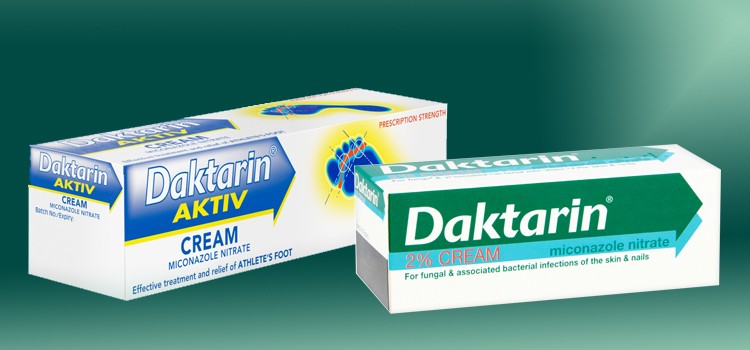 Published: 18th December, 2018 in: Health Advice Skin Conditions
The Daktarin products are used to treat an assortment of fungal infections in various areas of the body. Almost all of the products contain the active ingredient 'Miconazole Nitrate' which works by destroying both the fungus causing the infection as well as some of the associated bacteria present.
How long will it take to work?
Each Daktarin product varies in the time it may take to work but some of the products, like Daktarin Cream, may show signs of improvement quickly. It is important to keep using Daktarin Cream for up to 10 days after the symptoms have cleared to prevent them from coming back. It could even take up to 6 weeks for the product to completely clear the infection, so keep on with the treatment. Whether the infection is on your hands, feet, trunk, groin, outer ear, or even your throat, there are Daktarin products available for you to use. Here are the products we have available and which type of infection they are used for:
Athletes Foot
For those suffering with athletes foot, or other associated fungal infections on the feet, the best products for you are Daktarin Activ Spray Powder or Daktarin Activ Cream. Daktarin Activ Spray Powder is a great way to efficiently treat your whole foot, including in-between your toes, as well as allowing you to spray socks and shoes in order to ensure any lingering bacteria is killed. Whereas Daktarin Activ Cream can kill the fungus causing the infection while also moisturising your foot, soothing and eradicating the cracked, dry, and red skin caused by athletes foot.
Another product made specifically for treating athletes foot is Daktacort Hydrocortisone Cream, containing Hydrocortisone to reduce inflammation and Miconazole to destroy the fungus. You can also use Daktarin 2% Cream, Daktarin 2% w/w Cream, and Daktarin Powder which are all usable on feet. If you are looking for a product perfect for treating athletes foot, but containing a different active ingredient then you could try Daktarin Gold 2% Cream. This containg Ketoconazole rather than Miconazole Nitrate.
Throat and Mouth Infections
If your fungal infection manifests itself in your mouth and/or throat, then you could try Daktarin Oral Gel This gel will instantly soothe the irritation caused by the infection, while also reducing the burning sensation in your mouth and gums. This gel will also destroy the fungus and help to prevent further outbreaks or mouth infections.
Other Fungal Infections
For treating fungal infections on other (or multiple) parts of your body try Daktarin 2% Cream, Daktarin 2% w/w Cream, and Daktarin Powder which can be used on the hands, feet, nails, outer ear, trunk, and groin. If you wish to dry the skin at the infected area then try Daktarin Powder. However, for a more moisturised application try one of the Daktarin 2% creams which will allow for a smooth application.
What To Avoid
Do not use Daktarin or Daktacort if you are allergic to the active substances, other similar anti-fungal medicines, or any of the other product ingredients. If you forget to use a dose of these products do not double dose.
If you are pregnant or breastfeeding then speak to your doctor before using the products. You should also speak to your doctor is you are taking anticoagulants (drugs used to thin the blood) such as Warfarin.
For directions on product dosages and how to use the products make sure to read the product-specific leaflet inside the box. It is always recommended that you read the product informational leaflet before you use any of the Daktarin products.