Spring Bank Holiday and Platinum Jubilee Online Customer Service Opening Times:
Thursday 2nd June: 9am - 12noon
Friday 3rd June: Closed
Dandruff Causes and Treatment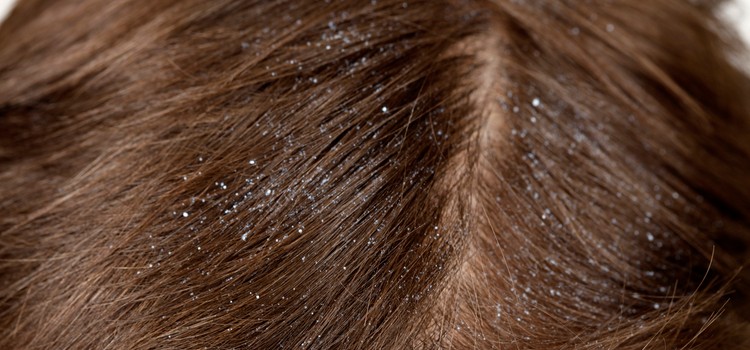 Published: 17th March, 2020 in: Health Advice
Most of us have had dandruff at one time or another but it can become uncomfortable due to the itchiness it causes. The flakes can also mess up a beautiful hair day. Dandruff is not caused by poor hygiene but rather can be caused due to a number of reasons. Find out what dandruff really is and what you can do to help improve your hair care routine to prevent dandruff.
What is Dandruff?
Dandruff is essentially dead skin cells that fall off your scalp. They look like little white flakes and can fall onto your clothing and shoulders easily.
What Causes Dandruff?
Flakes and itchiness are the most common signs of dandruff. There are a variety of factors that can cause dandruff, and identifying the exact cause can prove difficult. The main causes are detailed below:
Lack of Shampooing
Skin cells will build up on the head if shampoo is not used frequently to clean and care for your hair. Using the right shampoo for your hair and skin type is important to prevent dandruff build-up. Those with dry skin and hair will need a moisturising shampoo and conditioner that helps restore hair protein and moisture to your skin to help prevent dead skin cells (dandruff) from falling off the scalp. On the other hand, those with oily skin and hair will need less harsh and strong hair products, to prevent excessive moisture and oils, which can also increase dandruff.
Anti-dandruff shampoos may also be a good product to add to your hair care routine. Nizoral Anti-Dandruff Shampoo can be used to treat dandruff as well as prevent it from recurring. It boasts a unique formula that treats the inflammation associated with dandruff to relieve the scalp of redness and itching. Another leading hair care brand, Seba, offer the Seba Med Anti-Dandruff Shampoo which uses a gentle cleansing formula to remove visible signs of dandruff and stabilise an oily scalp. Its active ingredient is Piroctone Olamine which helps to ensure the gentle removal of dandruff. The shampoo supports and protects the acid mantle of the scalp to give you healthy and rejuvenated hair. It is free of common harsh ingredients, such as soap and alkali, and uses moisturising and conditioning ingredients offering gentle treatment for your hair and scalp.
Common Skin Conditions
Skin conditions, such as Eczema and Contact Dermatitis, can cause dandruff because they can affect the skin on your scalp. They can cause dry, red, flaky and very itchy skin on different areas of the body. Contact Dermatitis can also cause blisters and cracked skin. If your symptoms are bad, your scalp is red, or your skin is swollen - contact your GP.
Dry Skin
During colder months, we are more vulnerable to dry skin. This can also affect your scalp! It is important to keep your skin moisturised to prevent breaking and dry skin. Most of us understand the importance behind taking care of your face skin and moisturising daily to lock in those important nutrients and moisture, but the same logic should be applied to your scalp. By using the right moisturising shampoos and conditioners, you can help the skin on your scalp to retain it's natural moisture and prevent dandruff and dandruff build-up.
Malassezia Yeast
Malassezia yeasts can be found on the skin of those with dandruff. This yeast is found on the skin of most adults. Normally it does not cause any problems, however, for some people it is believed this yeast could irritate the scalp and increase skin cell growth. As dandruff is made up of dead skin cells, an excess in skin cells on your scalp could increase the likeliness of dandruff and may be an underlying cause.
What are the Different Hair Types and Why are they Important?
Hair care products, such as shampoo and conditioner, can sometimes be harsh on the skin because it can use strong ingredients to get into the deeper areas of your hair and cleanse them. That is why it is important for you to choose the right shampoo and conditioner for your hair types. This can help you get the right hair care products and routine setup to help prevent dry skin on the scalp. Know your hair type with this easy guide.
| | |
| --- | --- |
| Type 1 | Straight Hair |
| Type 2 | Wavy Hair |
| Type 3 | Curly Hair |
| Type 4 | Coily Hair |
E45 Dry Scalp Shampoo
E45 are a leading skin care brand using advanced technology to design products that use innovative formulas that rehydrate and restore health in dry skin. The E45 Dry Scalp Shampoo helps to treat one of the most common locations for eczema and skin conditions; the scalp. It is also suitable for all hair types! Skin conditions can strip away the natural oils from your scalp leading to dry skin problems and an increase in dandruff. A dry and itchy scalp can be very uncomfortable, which is why E45 shampoo could make an excellent addition to your hair care routine. E45 Dry Scalp Shampoo is free of harsh irritants common in other shampoos, and has been created to offer you a gentle cleanse and enriched hair as the shampoo has conditioning ProVitamin B5 properties. It is also lightly-fragranced, hypoallergenic, and its pH is balanced to that of the skin.
Oilatum
Oilatum Scalp Intensive Anti-dandruff Shampoo uses a formula comprising of effective and fast-working ingredients to give you relief from an itchy and dry scalp. It has been designed to specifically tackle dandruff build-up. It has a triple action to give long lasting relief. The Anti-Dandruff Shampoo contains ciclopirox olamine which has been clinically proven to treat the causes of itchy, flaky scalp conditions. The formula also uses menthol to give a cooling soothing effect along with itch relief. The product contains salicylic acid that breaks down and loosens dead skin cells helping to remove the flakes. Oilatum Scalp Intensive Anti-dandruff Shampoo is also suitable for all hair types and uses no preservatives, colour and fragrances.
Psoriderm
Psoriderm Scalp Lotion Shampoo has also been made using ingredients that help treat the scalp. It has two active ingredients, distilled coal tar and lecithin. Coal tar is often used in products to help treat skin conditions and is a mild antiseptic,provides anti-inflammatory effects, and relieves itching. Lecithin is a phospholipid that is included in this medicine to soften psoriasis scales and enhance the absorption of the coal tar into the skin cells.
Psoriderm scalp lotion is also used in the treatment of psoriasis of the scalp. Psoriasis is a condition where skin cells are being replaced too quickly, this excess of skin causes irritation. This shampoo helps to relieve uncomfortable symptoms and prevent dandruff caused by excessive skin replacement.
Neutrogena
Neutrogena are a leading hair care brand that create products formulated to leave your hair looking and feeling healthy. Neutrogena have years upon years of experience creating innovative products for all different hair types. Neutrogena T Gel Anti-Dandruff Shampoo Dry Hair works to relieve itching and flaking (dandruff) while protecting your hair's natural moisture to not dry your hair out. With colder temperatures, as are typical in British weather, your hair needs a daily care routines that help to nourish and protect your hair to prevent it from drying out. Neutrogena T/Gel Shampoo can offer this as it can be an effective therapeutic shampoo to help control the scalp itching and dandruff.
Head & Shoulders Men Ultra
The Men Ultra range has been specifically developed to treat and moisturise men's hair. Head & Shoulders Men Ultra 2in1 Shampoo and Conditioner combines both the benefits of shampoo and conditioner into one effective product. With anti-dandruff properties, scalp purifiers, and a moisturising effect - this hair care product from Head & Shoulders makes the perfect addition to every man's hair care routine. With regular use it can offer up to 100% anti-dandruff efficacy (visible flakes from a distance of 2 feet).
Discover a range of affordable anti-dandruff and hair care products online today to add to your routine leaving your hair feeling and looking visibly healthy. We offer free standard delivery on orders over £35!