Spring Bank Holiday and Platinum Jubilee Online Customer Service Opening Times:
Thursday 2nd June: 9am - 12noon
Friday 3rd June: Closed
Durex Guide: Sexual Health and Wellbeing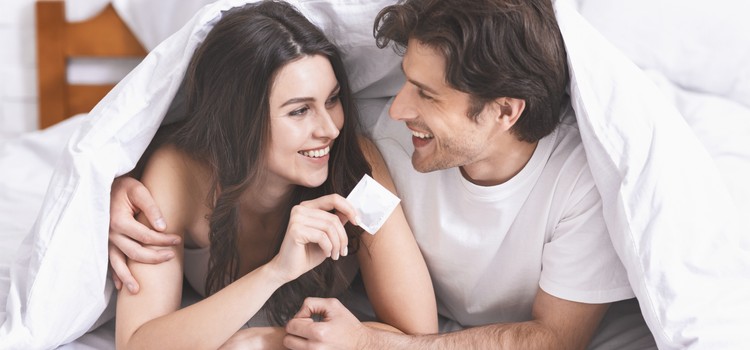 Published: 14th February, 2020 in: Health Health Advice Sexual Health
Valentine's day is near and amongst all the talk of roses and chocolates, couples should also be considering the best ways to take care of their sexual health and wellbeing. Our guide to Durex condom types and products breaks down some of the most popular sexual pleasure and health products available.
Finding the right contraceptives is a personal journey. Our guide is here to help you decide which Durex products might be helpful to add to your sexual health routine. Please note that no method of contraception can give you 100% protection against pregnancy, HIV or STDs.
Who are Durex?
Durex is a leading manufacturer of condoms, contraceptive products and lubricants. They are one of the most recognised contraceptive brands worldwide. With over 75 years of experience, the brand offers safe sex and enhanced sexual pleasure to millions.
Durex offers several different types of condoms with popular ranges, such as Thin Feel and Extra Safe. Each condom range offers different feels, thickness and lubrication giving you the flexibility to choose which condoms are the ideal fit for your sex life.
It is important to get the right sized condoms in order for them to work as they are intended. Too fitted condoms can be more vulnerable to rips and breakage. On the other hand, condoms that are too large could slip during sexual activity.
With so many contraceptive options available, our guide can help you to discover the right products for you by looking at the Durex condom sizes, ranges, and differences.
What are condoms?
Male condoms are a form of contraception. They are the only form of contraception that can both prevent pregnancy and protect against sexually transmitted infections (STIs).
They are commonly made of very thin latex (rubber), polyisoprene or polyurethane, and are designed to create a barrier, preventing a man's semen from contacting their partner during sexual activity.
How effective are condoms as contraception?
When used and applied correctly during sex, male condoms have been found to be 98% effective. Condoms should only be used once and then disposed of appropriately.
How are condoms tested for safety?
Durex condoms are 100% electronically tested for pinholes during manufacturing. Condoms are put over a metal mandrel and then subjected to an electrical field. Individual condoms that allow a current to pass through the rubber film and reach the metal mandrel, due to pinholes, are rejected. If the condom is intact, it would insulate against such currents.
Applying a condom accurately and ensuring you have the right size is important to get the full effect of their contraceptive properties. It is important to note that no contraception can guarantee 100% protection from STDs, HIV or pregnancy.
Durex Thin Feel Condoms
Durex Thin Feel condoms are designed to give greater sensitivity and feeling, while offering protection to both the user and their partner. They are made using ultra fine natural rubber latex, that is transparent and lubricated to enhance sexual comfort. They are some of the thinnest condoms that Durex make. Thin feel condoms size comes with a nominal width of 56mm.
How safe are Thin Feel Condoms?
Due to their 'thin' nature, people often ask whether these condoms offer substantial protection and are safe to use. Though Durex thin feel condoms use a finer natural rubber latex than other condom ranges, the latex used still offers protection during sexual activity. These condoms also have an easy-on shape and are teat ended to help you apply them safely. You can also find instructions on applying condoms accurately provided by the NHS. Ensuring you apply condoms correctly is essential to make sure they provide you with the intended level of protection.
Durex Pleasure Me Condoms
The Pleasure Me range of condoms offer a more unique texture and sexual experience. Consisting of Natural rubber latex, with an easy-on shape and teat end, these condoms offer easy application and safety.
Pleasure Me condoms have a ribbed and dotted texture to maximise stimulation and sexual experience for both partners. They also come designed with an odour mask to keep things fresh for both of you. Another key feature of this Durex condom range is that the male wearing the condom enjoys extra friction and movement caused by the extra bulbous shaped tip. This makes the Pleasure Me condoms a great option for this Valentines day!
Durex Pleasure Me condoms are sized with a nominal width of 56mm.
Durex Extra Safe Condoms
Durex Extra Safe condoms are ideal for those wanting that extra peace of mind during sex, or for those more rough times where a thicker condom is ideal. This Extra Safe condoms range are made with a slightly thicker natural rubber latex, with extra lube for comfort. They also have an easy-on shape and a teat end to help with applying the condom onto an erect penis.
Durex Extra Safe condoms are sized with a nominal width of 56mm.
Lubricants
Want to give your partner a smooth, comfortable and pleasurable sexual experience this Valentines? Discover how lubricants maximise sensation and make your sexual experiences even more enjoyable.
What is Lube?
Lubricants, also known as lube, for sexual activity are used to reduce friction and create an easier, more comfortable sexual experience for both partners. They come in a variety of bases including water, silicone, oil, or a combination of these. Choosing the right lubricant will depend on what you're looking for and if you are allergic or sensitive to certain ingredients found in lubricants.
Why is lube important?
Women of varying ages can suffer from vaginal dryness from time to time for a number of reasons. Vaginal dryness can be caused by stress, anxiety, natural hormonal changes during menstruation, and more. When the vagina is not lubricated well, intercourse and sexual activity can be painful, even causing damage to the vaginal lining in some cases. To help make sexual activity pleasurable this valentines, or any time of the year, artificial lubricants can help to reduce friction and pain by making sure the vagina is not too dry. It can also make the penetration experience easier and more relaxing for men. The myths and stigma around lube are fictional and need to disappear, why limit yourself from a pleasurable sexual experience this valentines?
Are lubricants safe to use with all condoms?
'Safe lubricant' is a term you have probably seen dotted around the internet as many fear lubricants may cause condoms to be less effective or more likely to break. The NHS has a quick and useful guide to condoms which breaks down which lubricants are safe to use with certain condom types.
Durex Lubricants
Durex Play Perfect Glide is a silicone lubricant that lasts longer than water-based lubes, meaning you do not need to stop to re-apply extra lubricant as you may with water-based versions. This lube has been formulated to apply warm so you won't have any awkward surprises of coldness when using this product.
Take care of yourself and your partner this Valentine's Day with our range of sexual health products and the Durex range; all at affordable prices. Always read the instructions for each individual protection product before use.