Spring Bank Holiday and Platinum Jubilee Online Customer Service Opening Times:
Thursday 2nd June: 9am - 12noon
Friday 3rd June: Closed
The Value of a Community Pharmacy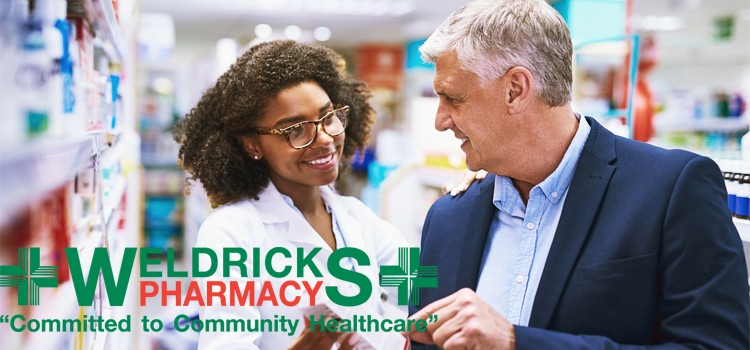 Published: 1st April, 2016 in: Health Advice News Pulse
You don't know what you've got until it's gone
Accessible healthcare here in the UK is becoming increasingly difficult for many. So, at a time when you can be waiting several days or even weeks to see a healthcare professional, community pharmacies are really able to come into their own.
Most people living in England are within 20 minutes walk or a 10-minute car journey of a local community pharmacy. In that pharmacy is a wealth of medical expertise and knowledge. Pharmacists and their highly trained teams are ready and waiting to advise, support, discuss, reassure and, overall, help and they won't be watching the clock while they do.
There's no need to book an appointment. You don't need to fill out lots of forms. You can just turn up and you can access a group of experienced and friendly healthcare professionals at whatever time of day is convenient to you.
It's a resource that deserves and demands high value in today's society where pressures on NHS resources are increasing on a daily basis. One of the biggest threats to this vital resource is that, if the Government doesn't make proper provision, the number of pharmacies will be cut and those that remain simply won't be located in the places where people actually need them to be in their normal daily lives. Location will be dictated by the prescription market rather than the customer's OTC needs – that won't work and people will ultimately suffer.
Community pharmacies aren't just about collecting a prescription or grabbing some anti-histamines for your hay fever; they have other functions too. Take the social value of your local pharmacy, for example. Often found on high streets or small shopping parades, community pharmacies are stores people pop into on a weekly or daily basis when they are doing their shopping. In doing so, they build up a rapport with the pharmacy staff that they wouldn't necessarily get in a town or city centre pharmacy. They trust the pharmacy and they often come to rely on it.
And then there is commercial value of the local community pharmacy. Those high street shops and traditional shopping parades contribute both income and employment to the local area. Another positive.
Weldricks do have outlets in health centres but we serve a different purpose there as we predominantly fulfill prescriptions and advise on medicines. The irony is that a significant percentage of the people who've visited the health centre could have got the same advice and an over-the-counter medicine (if even required) from the pharmacist rather than waiting for hours to see a senior nurse practitioner or GP.
Community pharmacies can undoubtedly help to relieve some of the pressure on the NHS by keeping people out of the health centre or visiting their GP – we can help people get well local.
If, as the government is considering, the only pharmacy ends up being in the health centre people will be inclined to say: "Well I may as well make an appointment there" rather than go to their local pharmacy when they make their daily or weekly trip to the local shops.
Our recently relocated Dunscroft branch really underlines the value of the community pharmacy for me. It's nowhere near a GP surgery. rather it's in a small, local shopping parade alongside a coop Since we moved there the number of customers walking-in for advice on self-medication with over the counter medicines has increased enormously and the surrounding local shops have also seen extra customers. It's a vibrant resource and we need such resources if we wish to grow the UK economy.
We believe in the high street pharmacy and the health centre pharmacy – there is a requirement for both. Pharmacists in each have adapted different skill sets and they deal with varying customer needs. That's the key: we all need different things from our pharmacies but the community pharmacy adds so much more value and we perhaps take that value for granted. And, like many things we take for granted, we don't realise how much we need them until they've gone.
Click the link to sign to petition to stop pharmacy funding cuts and support pharmacy services that save the NHS money:
https://petition.parliament.uk/petitions/116943