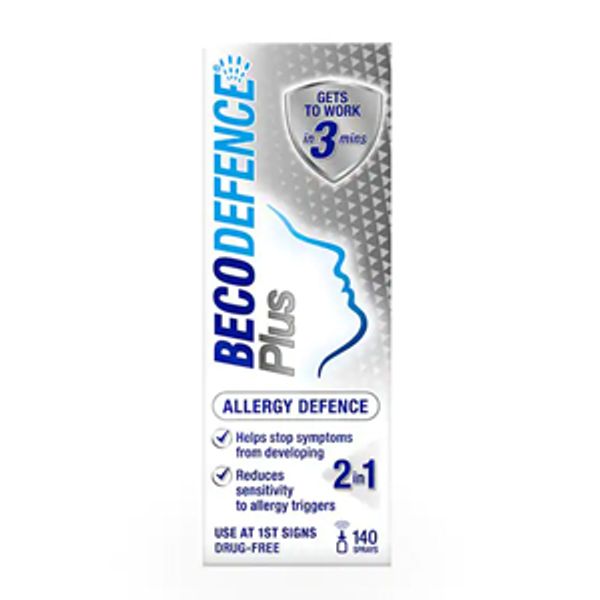 Becodefence Plus Allergy Defence Nasal Spray 20ml
This product is typically dispatched within 3-5 working days from date of order and is not suitable for our next day delivery service.
Description

Becodefence Plus Allergy Defence Nasal spray gets to work in 3 minutes to help prevent hayfever and allergy symptoms from developing. This drug-free nasal spray also reduced sensitivity to allergy triggers.
Directions

Shake bottle well before use.
Remove cap from bottle and prime the pump with small sprays in the air before you use the product. Press the applicator 5-10 seconds and then release. Repeat until a full spray is obtained.
Tilt head slightly forward and hold the bottle upright, inserting the tip fully into your nostril. Spray once. Spray a second time if necessary. Repeat on other nostril.
Tilt head backwards briefly after application and breathe normally through your nose.
Warnings

not suitable for children aged under 12 years.
Please check ingredients for allergens before use.

Ingredients

Bentonite veegum, xanthan gum, glycerol monostearate, potassium phosphate, dipotassium phosphate, glycerin, sesame seed oil, perilla seed oil, spearmint oil, mixed tocopherols, water, preservatives (phenoxyethanol, caprylyl glycol, potassium sorbate)
You may also like