Benylin Infant's Cough Syrup 125ml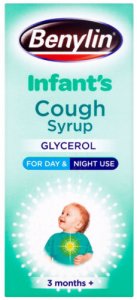 Benylin Infant's Cough Syrup 125ml
£3.15 Save: £0.93 RRP: £4.08
This product is typically dispatched within 3-5 working days from date of order and is not suitable for our next day delivery service.
Brand: Benylin
Code: 3885928
Weight: 100g
Description
Coughing starts when parts of your child's breathing passages become inflamed or irritated.
Benylin Children's Cough Syrup contains glycerol and is sugar free.
How it works?
This syrup soothes your little one's throat and helps relieve discomfort. Soothes dry and tickly coughs for children aged 3 months and over.
What is a cough?
Coughing starts when part of your breathing passage becomes inflamed or irritated.
The cough is simply a reflex to try and remove the irritant and clear the airway. Coughs can either be productive (producing excess mucus or phlegm) or unproductive (producing no mucus or phlegm).
Chesty and mucus coughs are productive, whereas dry and tickly coughs are unproductive.
Directions
For oral use only.
Do not use more than the stated dose shown.
Dosage: Children 3months to 1 year: One 5ml spoonful
Children 1-5 years two 5ml spoonfuls
Give 3-4 times within 24 hours, as required, if symptoms persist for more than 3 days, talk to your doctor or pharmacist.
Warnings
This medicine is unlikely to cause side-effects unless your child is allergic to the ingredients.
If your child experiences any side-effects or you are not sure about anything, talk to your doctor or pharmacist.
Do not give this medicine after the expiry date shown on the bottle.
Ingredients
The Active Ingredient is: Glycerol 0.75 ml
Other Ingredients are: Purified Water, Maltitol Liquid (E965), Citric Acid, Hydroxyethylcellulose, Sodium Citrate and Sodium Benzoate (E211)
You may also like