Due to an unusually high number of orders being received dispatch times may be longer than stated. Please allow up to 10 working days for dispatch.

We are also experiencing a high volume of calls. Please use our contact us page to leave a message and we will get back to you as soon as possible.
Dermatonics Heel Balm 75ml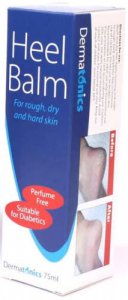 Dermatonics Heel Balm 75ml
£5.19
Brand: Dermatonics
Code: 3449618
Weight: 90g (includes packaging)
Description
Dermatonics Heel Balm requires just a single daily application.
Dermatonics Heel Balm is used for rough, dry and hard skin and is registered as a medical device for the treatment and prevention of anhydrosis, or rough dry feet. It is also a very effective means of maintaining the condition of foot skin.
Contains 25% urea in a rich emollient base and is free of perfume and parabens.
Directions
Wash feet, clean and towel dry.
Apply Dermatonics Heel Balm once a day to the affected areas on the soles of the feet.
To avoid stinging ensure you apply the cream to the edges of, but not in, open cracks.
Put on socks or footwear to avoid damage to carpets, bedding etc.
Replace cap after use.
If the cream does not reduce the hard skin, it may, for some users, be appropriate to increase hydration by covering the feet in cling film and then putting a sock over it before going to bed. Please consult your GP or Medical Advisor to see if this is appropriate for you.
Not recommended for children under 12 years of age.
Warnings
Do not use on irritated or inflamed skin or if allergic to ingredients including lanolin.
Ingredients
Aqua, Urea, Lanolin, Petrolatum, C12-15 Alkyl Benzoate, Acrylates Copolymer, Cera Alba, Dimethicone, Glycerin, Phenoxyethanol, Ethylhexylglycerin, Triethanolamine, Parfum.
You may also like