Due to an unusually high number of orders being received dispatch times may be longer than stated. Please allow up to 7 working days for dispatch.

We are also experiencing a high volume of calls. Please use our contact us page to leave a message and we will get back to you as soon as possible.
DulcoEase Capsules Pack of 30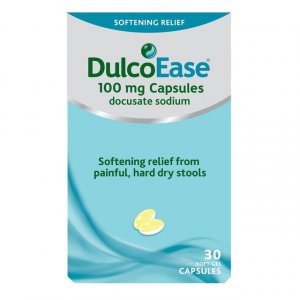 DulcoEase Capsules Pack of 30
£4.29 Save: £1.19 RRP: £5.48
Brand: DulcoEase
Code: 3207925
Weight: 175g (includes packaging)
Description
Dulcoease is a stool softener that softens hard stools for a more comfortable way to go to the loo. It comes in the form of a small convenient soft gel capsule that can be swallowed with water. From the makers of Dulcolax, Dulcoease provides effective relief from the pain and embarrassment of difficult bowel movements.
Dulcoease stool softener provides relief when bowel movement is painful or difficult, if you are constipated or suffer from piles or anal fissure. It softens hard, dry stools by increasing their absorption of natural fluids. Dulcoease may also be used before abdominal X-ray.
Directions
Swallow one Dulcoease capsule whole with water.
Take up to 5 times per day as necessary.
Do not chew the capsule, as it is designed to pass through the stomach and break down in the intestine where the active ingredient works.
The Dulcoease capsule is a soft gel capsule and is very easy to swallow.
Warnings
Do not take Dulcoease if you are:
pregnant, thinking of becoming pregnant, or breast feeding
suffering from stomach pains, feeling sick, or have been sick in the last 24 hours
allergic to the ingredients
intolerant to a small quantity of sugar (sorbitol, fructose)
taking a mineral oil laxative (liquid parafin)
Consult a doctor if you find that you need to use Dulcoease every day, or have persistent stomach ache. If you accidentally overdose, drink lots of water and contact a doctor immediately.
Ingredients
Docusate Sodium, Macrogol 400, Propylene Glycol, Gelatin, Glycerol, Sorbitol, Titanium Dioxide (E171), Water, Colours (E104, E110)
You may also like