Early Bird Pregnancy Test Pack of 2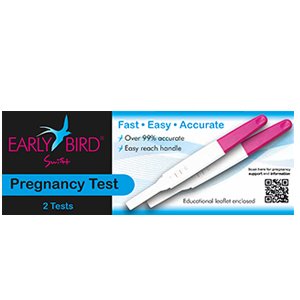 Early Bird Pregnancy Test Pack of 2
£6.19 Save: £0.76 RRP: £6.95
This product is typically dispatched within 3-5 working days from date of order and is not suitable for our next day delivery service.
Brand: Early Bird One-step
Code: 3429578
Weight: 175g (includes packaging)
Description
Early Bird is an accurate, easy to use and simple to read pregnancy test that can be used at any time of the day and as early as the first day of your missed period.
How accurate is the Early Bird Pregnancy Test?
Over 99% accurate in clinical trials.
How does the test work?
From the beginning of your pregnancy your body produces the pregnancy hormone hCG (human Chloronic Gonadotrophin) which is present in your urine in increasing amounts as your pregnancy progresses. Early Bird can detect very low levels of hCG as early as the first day of your missed period.
How soon can I test?
Early Bird is a very sensitive test so you can test at any time of the day from the first day of your missed period. However you should note that excessive fluid intake may dilute the pregnancy hormone and may make the result difficult to read.
Does drinking alcohol affect the test?
No.
I have received a negative result (not pregnant) now what?
If only the control line has appeared in the result window then no pregnancy hormone has been detected in your urine and you are probably not pregnant and your period should begin within the next few days.
If it does not, then you should perform another Early Bird test as it is possible you may have miscalculated the length of your cycle, or perhaps your urine did not contain sufficient hCG is detected, yet your period does not start within a few days, you should make an appointment to see your doctor.
I have received a positive result (pregnant) what should I do now?
Remember, no home test is intended to replace your doctor's diagnosis, so you should consult your doctor as soon as possible to confirm your result and receive free advice on healthcare.
No lines have appeared in the result window, what should I do?
Your result should appear within 5 minutes. However, if no results have appeared within 10 minutes the test has not worked correctly. This may be because too much or too little urine has been used. You should test again using a second test, taking care to follow the instructions.
How long will the result last, as I want to show someone.
You can keep the result almost indefinitely if you pull apart the test pen and allow the test strip to dry fully before storing,
The Health Education Authority recommends that you start taking a daily 400 microgram supplement of folic acid as soon as you start trying for a baby and up to the 12th week of pregnancy,. This will reduce the risk of your baby developing neural tube defects such as spina-bifida.
Directions
Remove the pen from the foil wrapper. Remove the pink lid from the test and clip it onto the other end.
Hold down the test pen by the lid with the absorbent tip pointing downwards and hold in your urine stream for at least 10 seconds.
Remove the lid from the end and place back over the absorbent tip. Place the pen on a clean dry surface.
Lines will start to appear after only 1 minute. Your result can be read after 5 minutes.
Negative - Not Pregnant
Only one pink line appears in the results window.
Positive - Preganant
Two pink lines appear in the results window.
Inconclusive - No Result
No pink lines appear in the results window.
Warnings
Do not use after the expiry date printed on the carton.
Not for internal use.
Dispose of with household waste.
Do not use if the foil wrapper is damamged.
Each test stick can only be used once.
Once open, use immediately.
Avoid contact with skin.
Do not freeze.
Store at room temperature.
Keep out of the reach of children.
Ingredients
There are no ingredients listed for this product.
You may also like