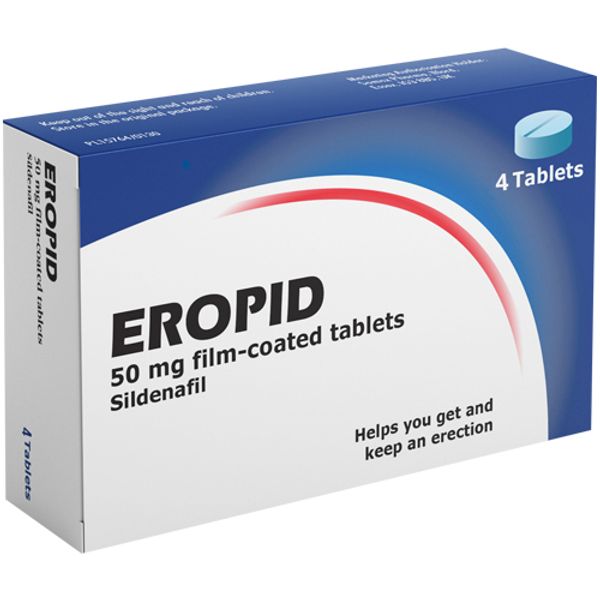 Eropid Tablets Pack of 4
This product is typically dispatched within 3-5 working days from date of order and is not suitable for our next day delivery service.
Description

Eropid is a treatment for adult men (aged 18 years and older) with erectile dysfunction (also known as impotence). This is why a man cannot get or keep an erection hard enough for satisfactory sexual activity.

Erections depend on many things, including proper blood flow to the penis. If blood cannot flow adequately to the penis, it can cause erectile dysfunction. Erectile Dysfunction (ED) is a common problem and can affect men differently. Some men cannot get an erection, other men can get an erection but it may not be hard enough for sex, or they may lose their erection before or during sex.

Eropid contains the active ingredient Sildenafil. It belongs to a group of medicines called phosphodiesterase type 5 (PDE5) inhibitors. It works by relaxing the blood vessels in your penis, allowing blood to flow into your penis when you get sexually excited and causing an erection.

Eropid will only help you to get an erection if you are sexually excited (stimulated).
Directions

Take one tablet, as needed, approx 1 hour before sexual activity.

Swallow the tablet whole with water.

Do not take more than one tablet a day.

The amount of time this medicine takes to work varies from person to person, but it normally takes between 30 to 60 minutes to work. You may take it up to 4 hours before sexual activity.
Warnings

Keep out of the sight and reach of children.

This medicine should not be given to children or adolescents under the age of 18 years.

Do not take Eropid with grapefruit or grapefruit juice, because this can affect how the medicine works.

Drinking excessive alcohol can temporarily reduce your ability to get an erection. To get the maximum benefit from your medicine, you are advised not to drink large amounts of
alcohol before sexual activity.

It is important to have a check-up with your doctor as soon as possible within the first 6 months of using Eropid to ensure that your erection problems are not caused by another serious health condition. Even if you feel healthy, your erection problems may be linked to other serious health conditions. Erectile dysfunction may be an early sign of:

heart and blood vessel problems
diabetes
high blood pressure
high cholesterol

You should discuss your symptoms and these conditions with your doctor if you have not already done so.

STOP TAKING Eropid and seek medical attention IMMEDIATELY if you experience any of the following SERIOUS side effects:

Chest pains: this occurs uncommonly. If this occurs before, during or after intercourse get in a semi-sitting position and try to relax. Do NOT use nitrates to treat your chest pain.
A persistent and sometimes painful erection lasting longer than 4 hours: this rarely occurs.
A sudden decrease or loss of vision: this occurs rarely.
An allergic reaction: this occurs uncommonly. Symptoms include sudden wheeziness, difficulty breathing or dizziness, swelling of the eyelids, face, lips or throat.
Serious skin reactions such as Stevens-Johnson Syndrome (SJS) and Toxic Epidermal Syndrome (TEN): this occurs rarely. Symptoms may include severe peeling and swelling of the skin, blistering of the mouth, genitals and around the eyes, fever.
Seizures or fits: this occurs rarely
Ingredients

The active substance is sildenafil. Each tablet contains 50 mg of sildenafil (as the citrate).

The other ingredients are:

Tablet core: cellulose powder, colloidal silicon (anhydrous), calcium phosphate dibasic (anhydrous), croscarmellose sodium, magnesium stearate.

Film coat: hypromellose, titanium dioxide (E171), triacetin, indigo carmine aluminium lake (E132), brilliant blue aluminium lake (E133), tartrazine aluminium lake (E102).
You may also like