Hedrin Treat & Go Mousse 100ml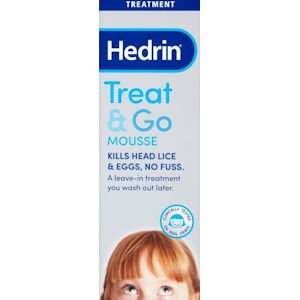 Hedrin Treat & Go Mousse 100ml
£9.25 Save: £3.74 RRP: £12.99
Brand: Hedrin
Code: 3630233
Weight: 175g (includes packaging)
Description
Hedrin's efficacy is a result of its active ingredients, Dimeticone (contained in Hedrin 4% Lotion and Hedrin Once) and Activdiol (contained in Hedrin Treat & Go and Protect & Go). All formulations are patented and have been shown to be effective at killing head lice in clinical trials and even work on lice that have developed a resistance to traditional pesticide treatments.
Head lice have a unique strategy of water management. Instead of producing urine they eliminate excess water via tiny passages in their exoskeleton called spiracles. The active ingredient Dimeticone, a silicone oil, disrupts this process of water management by coating the lice, causing them to become permanently immobile, and blocking the spiracles preventing them from getting rid of excess water. As a result, any lice that have recently fed suffer from death by gut rupture and, the ones that haven't, die of starvation.
Experiments carried out at the Medical Entomology Centre showed how Hedrin 4% lotion kills lice.
Like all insects, head lice are covered by a waxy protective coating. It is this waxy layer that helps the louse maintain its delicate internal water balance, preventing too much water from evaporating.
The Activdiol in Hedrin works dissolving away this waxy cuticle, causing death by dehydration.
Because Dimeticone and Activdiol kill lice with a 'physical' mode of action unlike a traditional chemical pesticide, you can use them as often as you like without the danger of the lice becoming resistant. Hedrin products are also free from solvents that can cause problems in some asthma sufferers.
Directions
Put it on
Apply straight onto dry hair. Shake the bottle well before use. Just spray foaming mousse into your hand and rub or comb it into the hair until it's covered from root to tip. Avoid contact with the eyes
Leave it in
Let the hair dry naturally (or use a hairdryer if you prefer), then everyone's free to get on with their day. Leave it in at night if you like. The mousse needs to stay on for at least 8 hours.
Rinse out
Rinse or shampoo it out, you'll find it comes out really easily, and the dead lice wash out too!
Repeat after 7 days, repeat these simple steps again.
Warnings
Hedrin Treat & Go Mousse is applied to the hair and scalp and is for external use only.
Do not use if you are sensitive to any of the ingredients. Do not apply to broken skin
Children under 6 months old should be treated under medical supervision
If accidently introduced into the eyes, flush with water. If irritation persists seek medical advice.
Do not continue to use Hedrin Treat & Go if a skin rash or other signs of allergy occur. Wash the skin with mild soap and water and seek medical advice.
Keep out of reach and sight of children
Ingredients
Octane-1, 2-diol, PEG-6 caprylic/capric glycerides, water
You may also like