Hyabak UD 0.15% Pack of 30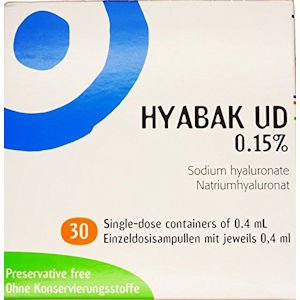 Hyabak UD 0.15% Pack of 30
£5.99
Brand: Hyabak
Code: 3814704
Weight: 120g (includes packaging)
Description
Hyabak UD is a hypotonic solution intended to be administered on the eye or on contact lenses. It contains Hyaluronic Acid (lubricating and moisturising agent) and Actinoquinol (agent with anti-UV properties).
With 0.15% Sodium Hyaluronate
Preservative-free hypotonic solution
Retains water and releases it progressively for long lasting relief for dry gritty eyes
Also available in a Hyabak bottle
For increased effectivity at treating Dry Eye, eating Hyabak Caps, with Omega 3 & 6 Oils will help improve your own natural tear film.
Directions
Wash hands before use.

1 drop in each eye regularly during the day as needed.

In contact lens-wearers: a drop on each lens when putting on and removing them, and also as often as necessary during the day.

Throw away the container, even if there is some solution left.
Warnings
Do not use if you are allergic to any of the ingredients.

Do not touch the surface of the eye with the tip of the container.

Do not inject, do not swallow.

Keep out of the sight and reach of children.
Ingredients
Sodium Hyaluronate, Sodium Chloride, Actinoquinol, Trometamol, Hydrochloric acid, Water for injections.
You may also like