Just For Men Autostop Darkest Black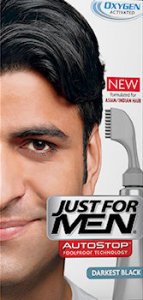 Just For Men Autostop Darkest Black
£5.89 Save: £2.80 RRP: £8.69
Brand: Just For Men
Code: 3947090
Weight: 35g (includes packaging)
Description
Just For Men Autosop is the foolproof way to get rid of grey hair.
Radically easy way to get rid of all of your grey.
Foolproof, self-timing formula shuts off at target colour.
No mix, no mess.
Just comb it in and rinse it out.
No peroxide, no ammonia.
Gentle, air-activated product that leaves hair feeling good.
Directions
Comprehensive, easy to follow instructions are included inside the packaging. Please read carefully before use.
Warnings
Ingredients can cause an allergic reaction. Do a skin test 48 hours before you use the colour.
Avoid contact with eyes. Rinse immediately if it comes into contact with eyes.
Rinse hair well after application.
Wear gloves provided.
This product contains ingredients which may cause skin irritation on certain individuals and a preliminary test according to accompanying directions should first be made.
This product must not be used for dyeing the eyelashes or eyebrows -- to do so may cause blindness.
Do not use if you have skin depigmentation problems such as white patches on your skin (a condition called Vitiligo) or if you have a family history of skin depigmentation problems, as an allergic reaction or skin irritation may cause loss of skin pigment.
Ingredients
Aqua, Cetearyl Alcohol, Steareth-21, 1,2,4-Trihydroxybenzene, Ceteareth-20, Toluene-2,5-Diamine, Ethanolamine, m-Aminophenol, p-Phenylenediamine, Hydroxyethyl Cellulose, Parfum, N,N-Bis(2-Hydroxyethyl)-p-Phenylenediamine Sulfate, 2-Amino-4-Hydroxyethylaminoanisole Sulfate, 2,4-Diaminophenoxy Ethanol Sulfate, p-Aminophenol, Manganese Sulfate, Erythorbic Acid, Sodium Sulfite, Etidronic Acid
You may also like