Kindervital Liquid Supplement 250ml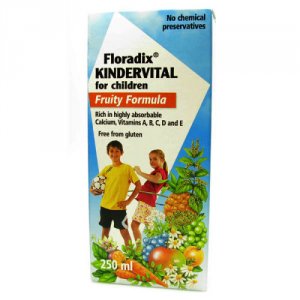 Kindervital Liquid Supplement 250ml
Description
Kindervital Fruity Formula is a delicious tasting food supplement which provides calcium and nine essential vitamins. It is an ideal multivitamin with calcium product to help maintain health and vitality in children whose diet may be deficient in some of the goodness that they need. As all nutrients are already dissolved in a liquid formula, the vitamins and calcium can easily be absorbed by the body. Formulated particularly for children, Kindervital Fruity Formula is suitable for children from 3 years of age and can be taken throughout childhood and by teenagers.
Kindervital Fruity Formula is free from preservatives, alcohol, colourings and synthetic additives. Additionally it is free from gluten, dairy, lactose and nuts. Kindervital Fruity Formula is suitable for vegetarians.
Directions
Children 3 years and older:
10ml twice daily, preferably before meals (Measuring cap provided).
Please read the manufacturers label and never exceed the recommended dose.
Ingredients
Aqueous Extract (46%) of: Carrots, Aniseed, Water Cress, Bitter Orange Peel , Coriander Fruits Nettle Wort, Spinach, Camomile Flowers.
You may also like