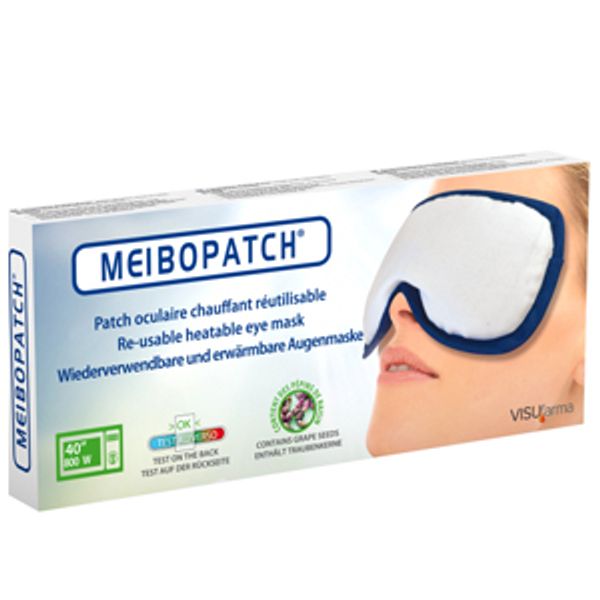 MeiboPatch Reusable Heatable Eye Mask
This product is typically dispatched within 3-5 working days from date of order and is not suitable for our next day delivery service.
Description

MeiboPatch is a reusable ocular patch which can be heated using a microwave and applied to the eyelids. The gentle heat can be used to treat Meibomian Gland Dysfunction (MGD), blepharitis, chalazion, crusting, cysts, eyelid inflammation and dry eye syndrome. MeiboPatch includes a unique temperature test strip which shows when it is ready for use.
Directions

Heat up the MeiboPatch in the microwave (40 seconds, 800 Watt).

Shake MeiboPatch gently and test its temperature using the tester on the packaging and also on your wrist.

Place Meibopatch on the tester for 30 seconds. Please check the colour of the tester and compare against the colour grid on the packaging.

Remove makeup and cream from your face before using your MeiboPatch.
Warnings

Always test the temperature of MeiboPatch on the testing strip and on the inside of your wrist.

Always close your eyes when using MeiboPatch.

Remove make-up and cream from your face before using your MeiboPatch.

Consult a doctor if your symptoms worsen.

Do not use MeiboPatch:

With contact lenses
If the skin around your eyes is damaged
If you have known hypersensitivity to grapes or any other constituent of MeiboPatch
If it is corrupted (torn or wet, the grape seeds are leaking)
In case of eye infection
Ingredients

Grape Seeds, Cotton Fabrics.
You may also like