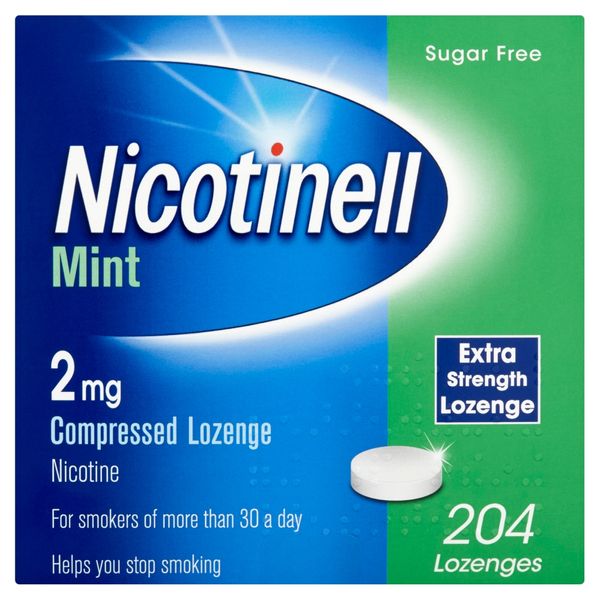 Nicotinell 2mg Lozenge Mint Pack of 204
This product is typically dispatched within 3-5 working days from date of order and is not suitable for our next day delivery service.
Description

Nicotinell ® Mint flavour lozenge is a medicinal product used to help people stop smoking by providing relief of nicotine withdrawal symptoms.

The lozenge provides on-the-go relief when the urge to smoke strikes and dissolves in the mouth to release a dose of nicotine to help satisfy that urge. It is a convenient, discreet, and alternative option to our chewing gum and has a fresh, minty taste.

Nicotinell® Mint flavour lozenge can be used in almost any type of situation, no matter where.

Why Nicotinell: Nicotinell nicotine lozenge helps to quit smoking by relieving five withdrawal symptoms of quitting - anxiety, frustration, restlessness, irritability and cravings
The Nicotinell product range includes TTS Patch, medicated chewing gum and lozenge. Stop smoking aid. Requires willpower. Contains nicotine. Always read the label.
Lozenge range: Nicotinell nicotine lozenges are a stop smoking aid available in a sugar free mint flavour and 1 mg and 2 mg strengths
Which strength: If you smoke less than 20 cigarettes per day, consider Nicotinell 1 mg lozenges; smokers of more than 20 cigarettes per day should consider Nicotinell 2 mg lozenges
When to use: Use Nicotinell nicotine lozenges to help relieve nicotine cravings and to help you quit smoking
Directions

For adults over 18 years of age. Read the enclosed instructions carefully before use.

You must not smoke whilst using these lozenges. Can be used alone or in combination with Nicotinell transdermal patches, please see leaflet.

For oromucosal use. Suck 1 lozenge when you when you feel the urge to smoke, but initially try to use no more than 1 lozenge every 1-2 hours. Most people use 8-12 lozenges per day. This product is designed to be sucked slowly, do not swallow or chew.

These lozenges should not be sucked like ordinary lozenges. Read the Nicotinell sucking technique in the enclosed leaflet carefully before use.

Only use 1 lozenge at a time and do not use more than 15 of the 2 mg lozenges a day.

You are more likely to quit smoking when using this product with help from your pharmacist, doctor, a trained counsellor, or a support programme.
Warnings

Do not use if you are a non-smoker or are allergic (hypersensitive) to any of the ingredients.

Consult your doctor, nurse or pharmacist before starting to use these lozenges if you are under 18 years of age, have any serious heart disease, are pregnant or breast-feeding, or are under a doctor's care or taking prescribed medication.

Do not exceed the stated dose.

Keep all medicines out of the reach and sight of children.
Ingredients

Nicotinell Mint 2mg Lozenge contains 2mg Nicotine (as Nicotine Bitartrate Dihydrate).

Also contains Maltitol (E965), Aspartame (E951) and Sodium (9.8mg per Lozenge).
You may also like