Nutriplan Meal in a Drink Sachets Chocolate Pack of 8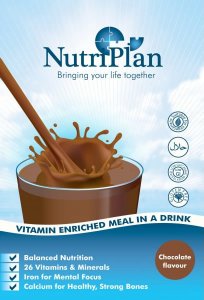 Nutriplan Meal in a Drink Sachets Chocolate Pack of 8
£2.99 Save: £0.30 RRP: £3.29
This product is typically dispatched within 3-5 working days from date of order and is not suitable for our next day delivery service.
Brand: Nutriplan
Code: 3951977
Weight: 228g (includes packaging)
Description
NutriPlan is packed with valuable ingredients for balanced nutrition. One or two services of NutriPlan should be taken to get the most of its benefits to support the daily needs for proteins, carbohydrates, vitamins and minerals.
NutriPlan is a convenient way to help support the nutritional health of adults, children and the elderly. Having a balanced diet with the correct amounts of nutrients, vitamins and minerals that you need can be hard in modern life, which is where NutriPlan can help. It is a source of balanced nutrients and a mixture of essential proteins, with the addition of fat and carbohydrate as sources of energy:
Carbohydrates contain sugars to provide energy, and healthy saturated fats have a number of benefits for your body.

Fibre is an ingredient contributing to good digestion.

Vitamin A is important for healthy eyes and skin.

Vitamin D is crucial for bone health.

Vitamin E is known for its antioxidant function.

Vitamin B6 is an efficient coenzyme for overall metabolism.

Vitamin B12 is responsible for the normal functions of the nervous system and the brain.

Folic acid is paramount for a number of body functions, especially for rapid cell division and growth, and hence is especially important in infancy and pregnancy.

Calcium for strong, healthy bones.

Iron to support mental focus.
NutriPlan also contains a comprehensive range of essential minerals, including potassium, magnesium, zinc, copper, manganese, selenium, chromium, molybdenum, and iodine. Although trace elements such as copper, iodine and iron are only needed in really minute amounts, they are vital for a balanced diet.
For the Family
Nowadays families do not take enough essential proteins, vitamins and minerals with their food, and that often leads to the accumulation of excess fats and the loss of energy. This is especially important when considering a child's diet as it may affect the way they grow and potentially limit their abilities as an adult.
Busy Lifestyles:
It can be hard to get a balanced diet when your work-home life leans towards the former and you have limited time to refuel. NutriPlan is quick and easy to prepare and quick to drink, so you can get advanced nutrition in minutes and can even be prepared in advance to take with you to work.
Weight Management:
When time is a problem, NutriPlan makes a great alternative to fast food and is more cost effective too.
NutriPlan for the elderly:
As you get older, your nutritional requirements may change, due to illness, physical disability etc. and you many no longer be able to get enough from the foods you normally eat, or you may have trouble eating. NutriPlan is easy to prepare and consume, so is great even for those with limited dexterity.
The elderly are in great need of comprehensive nutritional coverage for a number of reasons. Many members of the older generation become less energetic, lose weight drastically and face increased levels of illness/ physical disability. Ordinary foods that are staples in the diet of adults may no longer be sufficient to support and maintain the health of seniors and may also provide challenges when it comes to consumption and digestion. To battle these tough issues,
NutriPlan offers a range of benefits including:
Easy preparation

Easy consumption

26 essential vitamins and minerals

Proteins, fats and carbohydrates for energy
NutriPlan at a glance:
Provides balanced nutrition.

Contains 26 vitamins & minerals

Low Glyceamic Index

Free from gluten, lactose, wheat, sucrose and egg.

Non genetically modified.

Suitable for vegetarians, diabetics and Halal diets.

Can be taken during pregnancy.

No artificial flavours, flavour enhancers, preservatives, colours or sweeteners.
It is also suitable for the majority of dietary requirements and will continue to grow as one of the most effective nutritional supplements for the wellbeing of all.
Directions
Take 200 ml of water or milk (either cold or warm) and blend NutriPlan powder with the aid of a fork, a hand blender, or a drink shaker. When the mixture is smooth, it is ready to drink.
The prepared drink can be stored it in a refrigerator for up to 24 hours. It will preserve its nutritional qualities in the course of that period.
Warnings
Consumers should bear in mind that NutriPlan is not intended to be a source of nutrition by itself; it is a valuable part of a balanced diet.
NutriPlan should be given to infants below 12 months old only under the supervision of a physician. Diabetics should only use NutriPlan after consulting with their doctor.
Store in a cool and dry place in order to preserve its qualities as best as possible.
Ingredients
Skimmed Milk, Maltodextrin, Fructose, Dextrose, Soya Lecithin, Potassium Phosphate, Calcium Phosphate, Flavourings, Magnesium Sulphate, Molybdenum Citrate, Zinc Gluconate, Xanthan Gum ( Stabilizer), Ferrous Bisglycinate, Pantothenic Acid, Vitamin A, Manganese Gluconate, Vitamin C, Copper Citrate, Folic Acid, Vitamin E, Niacin, Potassium Iodide, Chromium Chloride, Sodium Selenite, Vitamin D, Vitamin B6, Riboflavin, Vitamin K, Thiamin, Vitamin B12, Biotin.
Nutritional Information
| | | | | |
| --- | --- | --- | --- | --- |
| Typical Values | Per 100g Powder | % RDA* | Per Serving (57g) | % RDA* |
| Energy | 1538kj | | 877kj | |
| | 363kcal | | 207kcal | |
| Protein | 15.5g | | 8.8g | |
| Carbohydrates | 70.4g | | 40.1g | |
| of which sugars | 11.6g | | 6.6g | |
| Fat | 1.9g | | 1.1g | |
| of which saturates | 0.4g | | 0.2g | |
| Fibre | 0.3g | | 0.2g | |
| Sodium | 0.2g | | 0.13g | |
| Vitamins | | | | |
| Vitamin A | 350.0µg | 44 | 200.0µg | 25 |
| Vitamin D | 4.4µg | 88 | 2.5µg | 50 |
| Vitamin E | 8.8µg | 73 | 5.0mg | 42 |
| Vitamin K | 67.0µg | 89 | 38.0µg | 51 |
| Vitamin C | 53.0mg | 66 | 30.0mg | 38 |
| Thiamin | 1.2mg | 112 | 0.7mg | 64 |
| Riboflavin | 1.4mg | 100 | 0.8mg | 57 |
| Niacin | 1.6mg | 99 | 9.0mg | 56 |
| Vitamin B6 | 1.8mg | 125 | 1.0mg | 71 |
| Folic Acid | 180.0µg | 88 | 100.0µg | 50 |
| Vitamin B12 | 0.9µg | 35 | 0.5µg | 20 |
| Biotin | 0.13mg | 263 | 0.075mg | 150 |
| Pantothenic Acid | 5.3mg | 88 | 3.0mg | 50 |
| Minerals | | | | |
| Potassium | 660.0mg | 33 | 380.0mg | 19 |
| Chloride | 450.0mg | 56 | 260.0mg | 33 |
| Calcium | 540.0mg | 68 | 310.0mg | 39 |
| Phosphorus | 440.0mg | 63 | 250.0mg | 36 |
| Magnesium | 96.0mg | 26 | 55.0mg | 15 |
| Iron | 7.4mg | 53 | 4.2mg | 30 |
| Zinc | 5.3mg | 53 | 3.0mg | 30 |
| Copper | 0.53mg | 53 | 0.3mg | 30 |
| Manganese | 0.53mg | 27 | 0.3mg | 15 |
| Selenium | 19.0µg | 35 | 11.0µg | 20 |
| Chromium | 11.0µg | 28 | 6.0µg | 15 |
| Molybdenum | 13.0µg | 26 | 7.5µg | 15 |
| Iodine | 79.0µg | 53 | 45.0µg | 30 |
*RDA = Recommended Daily Allowance
You may also like