Piriteze Allergy Tablets Pack of 30 x 5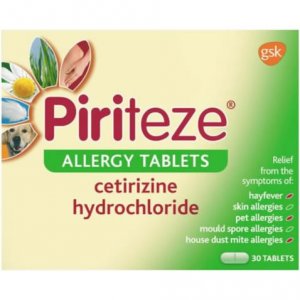 5 PACKS
Piriteze Allergy Tablets Pack of 30 x 5
£39.00 Save: £10.00 RRP: £49.00
Brand: Piriteze
Code: 2847333
Weight: 300g (includes packaging)
Description
Piriteze allergy tablets are for the relief from the symptoms of:
hayfever
skin allergies such as chronic urticaria (hives)
mould spore allergies
pet and house dust mite allergies
Directions
Adults (including the elderly) and children aged 6 years and over:
Take one tablet (10 mg) daily.
Children under 6 years:
Not recommended.
If you have any kidney problems, you should only take half the recommended dose.
Do not take more than the recommended dose.
If symptoms persist consult your doctor.
If you (or someone else) swallow a lot of the tablets all together, or if you think a child has accidentally swallowed any of the tablets, contact your nearest hospital casualty department or your doctor immediately. Take these tablets with you so that the doctor can see what has been taken.
Overdose can cause drowsiness. In children, agitation may occur.
If you forget to take a tablet, take one as soon as you remember, unless it is nearly time to take the next one. Never take two doses together. Take the remaining doses at the correct time.
Warnings
Do not exceed the stated dose.

The tablets, at the recommended dose, do not cause drowsiness in the majority of people. However, as with all antihistamines, occasional cases of drowsiness have been reported. If affected, do not drive or operate machinery.
If symptoms persist consult your doctor.
Do not take if you are pregnant or breast feeding.
Keep out of the reach and sight of children.
Ingredients
Each tablet contains the active ingredient cetirizine hydrochloride 10mg.
Also includes lactose. See leaflet for further advice.
You may also like