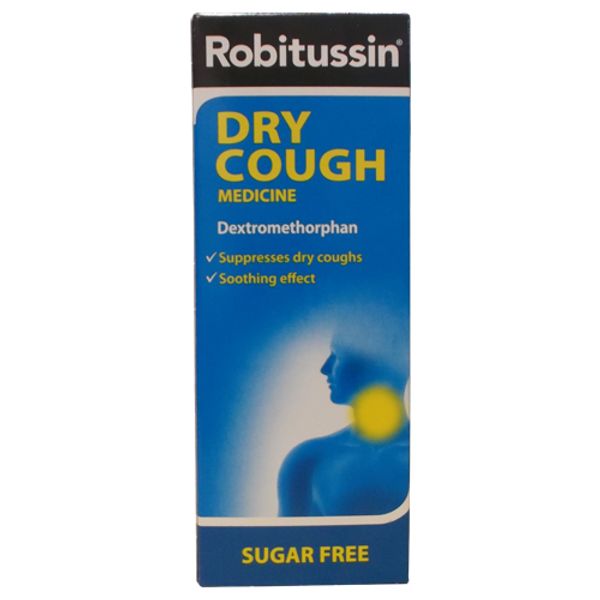 Robitussin Dry Cough 100ml
There is currently a manufacturing problem with is product. An anticipated return date has not been given. Please register below for update emails. Alternativley you might consider one of the related products below.
Dextromethorphan is limited to 1 per order.
This product is typically dispatched within 1-3 working days from date of order when using our standard delivery or 48 Hour Tracked and Signed service.
Description

Robitussin Dry Cough provides relief of persistent dry irritant coughs for up to 8 hours. One dose of Robitussin Dry Cough should be enough to provide relief for a whole day or night.

Robitussin Dry Cough:

•Relieves dry persistent coughs by controlling the cough reflex
•Soothes and eases the throat
•Sugar free
•Non-drowsy
Directions

Robitussin Dry Cough directions:

Adults the elderly and children over 12 years: Take 10ml Robitussin Dry Cough three or four times daily

Children 6-12 years: Take 5ml Robitussin Dry Cough three or four times daily

Under 6 years: Not recommended

•If your symptoms persist, speak to your doctor
•Do not exceed the stated dose
•If you have taken too much seek medical advice immediately
Warnings

Before taking Robitussin Dry Cough:

Do not take this medicine if you:

•Are sensitive to any of the ingredients (This product contains Amaranth (E123) which may cause allergic reactions).
•Are fructose intolerant
•Suffer from liver disease
•Are taking any of the following or have within the last two weeks taken monoamine oxidase inhibitors or SSRIs (both are types of anti-depressants) and if you are uncertain as to whether you are taking such medication, talk to your doctor or pharmacist
•Are taking any other types of anti-depressants
Pregnant or Breastfeeding: Do not take Robitussin Dry Cough

Side-effects are very rare: If an unwanted effect is severe or lasts for more than a few days stop taking the medicine immediately and see your doctor.

Unwanted side-effects may include: dizziness and stomach upset. Sorbitol containing products and cause stomach upset and diarrhoea. Glycerol containing products may cause headaches, stomach upset and diarrhoea. Sodium benzoate(E211) can be mildly irritating to the skin, eyes and mucus membrane.
Ingredients

Each 5ml of Robitussin Dry Cough contains active ingredient: Dextromethorphan hydrobromide ph Eur 7.5mg

Also contains: Maltitol, Sorbitol, Glycerol, Sodium cyclamate, Acesulfame potassium, Sodium benzoate E211, Disodium edetate, Amaranth E123, Caramel E150, Ethanol(96%) BP2.5 v/v, Carmellose sodium, Citric acid anhydrous, Caramel (E150), Levomenthol, Cherry grenadine flavour, Sorbitol solution (70%), Purified water
You may also like