Xylocaine 10mg Anaesthetic Spray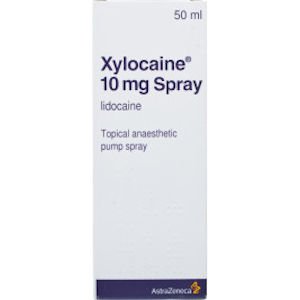 Xylocaine 10mg Anaesthetic Spray
£9.09
5 sold in the last hour!
This product is typically dispatched within 1-3 working days from date of order when using our standard delivery or 48 Hour Tracked and Signed service.
Brand: Xylocaine
Code: 0216861
Weight: 105g (includes packaging)
Description
Xylocaine Spray is used to numb (anaesthetise) parts of the body. It stops pain happening during:• Medical examinations and operations of the nose and throat.• Childbirth, and after the birth if stitches are needed.• Treatment at the dentist.
Directions
How Xylocaine Spray is given to you
• Xylocaine Spray will usually be given to you by a doctor or dentist. The dose that your doctor or dentistgives you will depend on the type of pain relief that you need. It will also depend on your age andphysical condition.• If you are given Xylocaine Spray to take home, you must use the dose recommended by your doctor ordentist. Always use Xylocaine Spray exactly as your doctor or dentist has told you. You should checkwith them if you are not sure.How to use Xylocaine Spray• Do not use more than 20 sprays.• You should use as few sprays as possible.• Do not get the spray in your eyes.• The spray nozzle is bent so that it works properly. Do not try to change the shape of the nozzle or itmight break.How to use Xylocaine Spray in the mouth and throat• When Xylocaine Spray is used in the mouth and throat it causes a loss of feeling. This makes it morelikely that food or liquid may go down the wrong way. Also, this may make it difficult to swallow orcause some people to accidentally bite their tongue or cheek.• Xylocaine Spray should be used with care in the elderly, in people who are in poor general health and inchildren
Warnings
Possible side effectsLike all medicines, Xylocaine Spray may cause side effects although not everybody gets them.Page 3 of 4Severe allergic reactions:If you have a severe allergic reaction, tell your doctor immediately. The signs may include sudden onset of:• Swelling of your face, lips, tongue or throat. This may make it difficult to swallow.• Severe or sudden swelling of your hands, feet and ankles.• Difficulty breathing.• Severe itching of the skin (with raised lumps).Other possible side effects:• Irritation where Xylocaine Spray has been used.• Feeling nervous.• Feeling dizzy.• Feeling sleepy.• Loss of consciousness.• Sore throat.• Hoarse voice or loss of voice.• Low blood pressure. This might make you feel dizzy or light-headed.• Fits (seizures).• Difficulty breathing or slow breathing.• Slow heart beat.• Stopped breathing or a stopped heart beat.Do not be concerned by this list of possible side effects. You may not get any of them. If any of the sideeffects get serious, or if you notice any side effects not listed in this leaflet, please tell your doctor or dentist.
Ingredients
The active ingredient is lidocaine. Each dose of spray contains 10 mg of lidocaine.The other ingredients are ethanol, levomenthol, macrogol 400, essence of banana (contains propyleneglycol), saccharin and purified water.
You may also like