The Best Skincare for Dry Skin: Brands & Products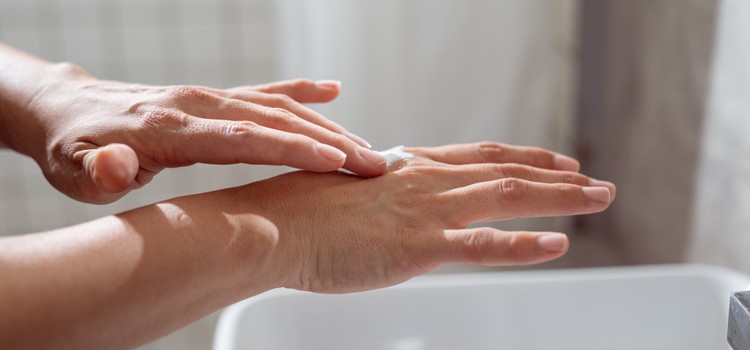 Published: 31st March, 2022 in: Skin Conditions
Dry skin is something that everyone experiences at some point in their life and there can be a variety of causes, such as seasons and weather changes, clothes detergents, skin conditions, or certain skincare products that don't offer our skin what it needs. Whether you suffer from dry skin regularly due to your skin type or a condition, or you have suddenly experienced it for the first time as a result of an external factor, it's important to find and use the best skincare for dry skin to provide it with the nourishment and protection it needs.
Weldricks Pharmacy is passionate about providing our customers with skincare brands that suit your skin's unique needs. Struggle with dry skin care in summer, winter, or all year round? We stock a range of brands that offer some of the best skincare for dry skin on the market, so you can ensure your skin is benefiting from the right ingredients and staying nourished and soothed.
We've put together a guide to our recommended skincare brands and their popular products for dry skin, whether you are looking for a cleanser, moisturiser, or more intensive treatment.
Best Skincare Brands for Dry Skin
QV is an Australian skincare brand that has more recently opened its product range up to the UK. Their focus is on using natural, pure ingredients that are primarily gentle on the skin above all else. Because of this, their product range offers some of the best skincare for sensitive skin, ideal for those with sensitive skin too as they contain no ingredients that may irritate soap, fragrance, and other irritants.
The QV range is so gentle and soothing that the products are even suitable for use on babies and those that suffer from more severe irritation like dermatitis and eczema.
Products and uses
QV is a recommended brand for those suffering from dry skin due to its wide range of products including cleansers, lotions, creams, and even bath oils, all of which contain minimal, pure ingredients.
Our recommended products for dry skin from QV include:
1. QV Skin Lotion
QV's skin lotion is a lotion that can be used all over the body, including the face, to relieve dry skin conditions. It's a light, non-greasy formula that works by moisturising but also adding a protective layer to relieve your skin from any external stressors and provide relief. The lotion can be used daily as part of your routine and provides a 24-hour barrier that locks in moisture.
The lotion provides several properties that those suffering from dry skin conditions such as eczema, dermatitis, and psoriasis can benefit from, including a pH-balanced, low-irritant formula that's free from any ingredients that can irritate such as fragrances, colourants, lanolin, and propylene glycol.
2. QV Gentle Wash
To complement QV's skin lotion, they also offer a gentle wash to add to your skincare routine for dry skin. The wash is a soap-free cleanser with added glycerin that moisturises while gently washing your skin of any bacteria and germs, to provide hydration and relief for dry skin conditions and prevent your skin from feeling dry or tight after washing.
There are many drugstore cleansers on the market that can be too harsh for dry skin and end up stripping your skin of moisture, making it feel itchy, uncomfortable, and even sore throughout the day. QV's wash cleanses your skin in a way that still allows your skin to maintain its natural moisture barrier, retain natural oils, and stay pH-balanced. It can even be used to cleanse your hair for those with sensitive, dry skin on your scalp.
Benefits
QV is one of the best options for those suffering from dry skin due to the minimal ingredients; there are no hidden nasties such as alcohol, fragrance, or soap that can increase dryness and irritation. Instead, QV uses ingredients with hydrating and emollient properties to restore the skin's natural barrier and protect it from drying out over time.
Benefits of QV products for dry skin include:
Lanolin-free
pH-balanced
Fragrance-free
Propylene Glycol free
Colourant free
Hypoallergenic
Vegan-friendly
Suitable for the elderly and children
Another brand offering some of the best skincare products for dry skin is Aveeno, who offer a range of products to suit various types and degrees of dry skin conditions. All of Aveeno's skincare products are developed from naturally derived oat ingredients that not only nourish the skin in the moment, but also help to restore your skin's natural barrier and balance it below the surface.
All their products are suitable and designed for dry and sensitive skin making great additions to any skincare routine to inject moisture but also protect your skin from the elements and day-to-day stressors and potential irritants that our skin faces.
Products and uses
Our recommended products for dry skin from Aveeno include:
3. Dermexa Daily Emollient Cream
The first of our recommended Aveeno products that are some of the best for dry skin, is their Dermexa Daily Emollient Cream. This cream uses a combination of prebiotic triple oat complex and ceramides to help maintain and strengthen your natural skin moisture barrier while also helping to restore the skin's microbiome balance to improve your dry skin's resilience over time.
Everyone's skin has a natural microbiome made up of microorganisms on the skin's surface. When the natural balance and barrier of the microbiome is altered, for example, due to a dry skin condition, this can cause extra dry, uncomfortable, and irritation-prone skin; something that Aveeno's Dermexa works to strengthen.
4. Aveeno Moisturising Cream
Another of Aveeno's signature products is their moisturising cream, which can be purchased in a handy pump bottle and can be used regularly all over the body and face as required. The cream is ideal for applying after showering or cleansing to prevent tightness or dryness from occurring and lock in moisture throughout the day.
Similar to the Dermexa cream their moisturising cream uses colloidal oatmeal to prevent dryness and irritation long term when used regularly.
Benefits
Aveeno is a brand whose products are designed with dry skin in mind, with their range including creams, lotions, and treatments that can treat and relieve a wide range of dry skin conditions and severities. All their products are developed using natural oat ingredients, which have natural soothing properties and help to keep your skin balanced and calm over time.
Oat ingredients to balance the skin's microbiome
Soothes and protects dry skin
Suitable for sensitive skin
Reduces flare-ups of skin dryness
Dermatologist tested and clinically proven
Fragrance-free
Paraben-free
High-tolerance formulas
E45 is a well-known brand in the skincare industry that has been around for over 60 years and made a name for itself with its popular creams and lotions for dry skin. Their products are designed specifically as skincare for dry skin and can help to soothe and moisturise skin that is dry, right through to skin that suffers from more severe skin conditions like eczema or dermatitis.
Weldricks Pharmacy recommends E45 for those that require a skincare routine that contains minimal, natural ingredients, as E45 is designed to be suited to skin that is susceptible to irritation and prioritises helping your skin to stay protected.
Products and uses
Our recommended products for dry skin from E45 include:
5. E45 Cream
E45's signature product is their cream treatment, which is suitable for a range of dry skin severities and conditions, including chapped skin, sunburn, itchy skin, eczema, dermatitis, and more. The cream can be used as part of a daily skincare routine on the face or body and helps to inject moisture while also acting as a protective barrier between your skin and external day-to-day stressors such as weather or other irritants.
E45 can be used liberally all over the face or body and can even be applied multiple times a day should your skin need further moisture throughout the day.
6. E45 Moisturising Lotion
Another of E45's products designed for dry skin is their lotion, which is similar to the cream but lighter on the skin. Similar to the cream, the lotion can be used all over the face and body as part of a daily skincare routine for dry skin and is easily absorbed to keep your skin moisturised without causing any clogging of the pores or heaviness on your skin.
E45's lotion and cream are also allergy-screened and hypoallergenic, containing a purified form of lanolin to soothe and protect the skin without causing any irritation for those with sensitive skin. The lotion can be applied as part of a daily skincare routine or applied as and when required.
Benefits
E45 products, and their widely used cream, in particular, have been described as a cult skincare product due to the versatility of the range and the benefits it can have for such a wide range of skin types and conditions. The minimal ingredient list and protective properties due to their products being an emollient, ensure that they don't just add moisture temporarily but also ensure your skin stays hydrated and comfortable long term.

Benefits of E45 for dry skin include:
Suitable for all skin types, ages, and a vast range of dry skin conditions
Non-greasy emollient formula
Long-lasting hydration and protection
Unperfumed and fragrance-free
Suitable for daily use as part of a skincare routine
Hypoallergenic
Purchase skincare for dry skin at Weldricks Pharmacy
Weldricks Pharmacy offers a wide array of some of the best skin care on the market for dry skin conditions, including a range of products designed to treat eczema, psoriasis, and dermatitis. We also stock a broad range of brands including those mentioned above, that prioritise natural, pure ingredients to help moisturise but also improve your skin's natural barriers and ensure healthier happier skin long term.
You can purchase any of the products mentioned here or browse other brands for dry skin via our website or in-store at your local pharmacy branch.