Everything you need to know about Fexofenadine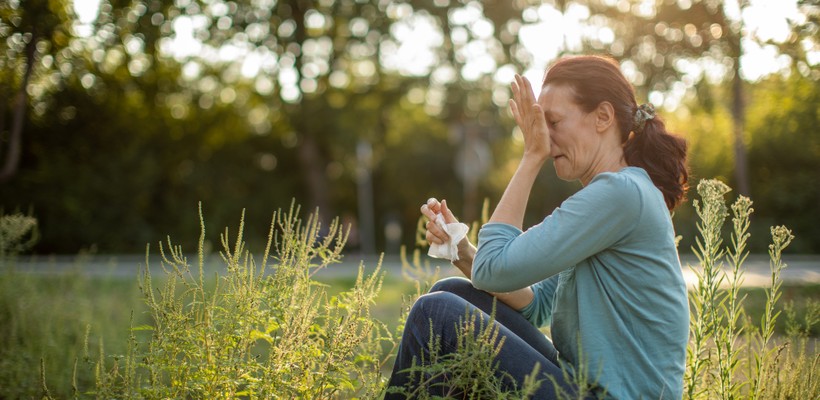 Published: 18th May, 2022
Fexofenadine is commonly used among allergy and hayfever sufferers to help relieve symptoms. This guide breaks down everything you need to know about Fexofenadine.
What is Fexofenadine?
Fexofenadine is a non-drowsy antihistamine that usually comes in tablet form. It is used to treat people with allergies to help them manage their symptoms. Fexofenadine is used to help treat hay fever, itchy eyes, eczema, hives, allergic reactions to insect bites and stings, and certain types of food allergies.
What is an antihistamine?
Antihistamines are a type of medicine that is often used to relieve symptoms of allergies, such as hay fever, hives, conjunctivitis and reactions to insect bites or stings. Antihistamines come in two main types:
antihistamines that make you feel sleepy
non-drowsy antihistamines
Antihistamines can cause different reactions in people, therefore sometimes people can also feel sleepy with non-drowsy antihistamines. Antihistamines can be bought from pharmacies and shops, but there are certain types and doses that are only available on prescription. Speak to a pharmacist or your doctor if you have any questions on the right antihistamine for your symptoms.
What is Fexofenadine used to treat?
Fexofenadine is used to help people manage their symptoms related to an allergy or hayfever. It can help prevent symptoms that usually happen when the body is reacting to an allergen, common symptoms include watery eyes, runny nose, sneezing, hives, and itching.
How do antihistamines work?
An allergic reaction occurs where someone's body responds to something, the 'allergen', in a specific way which can cause uncomfortable symptoms or a serious, life threatening response. The body responds in a protective way, seeing the thing as a threat.
For people who have allergy symptoms, such as itchy eyes or a runny nose, antihistamines may be used to help relieve such symptoms. Antihistamines block the natural substance, called histamine, that the body produces during an allergic reaction helping to prevent symptoms or make them milder.
If you think your or someone else is suffering from a serious allergic reaction, you must call emergency services on 999. Allergic reactions are serious and can be life threatening.
Who should not use Fexofenadine?
Fexofenadine is not suitable for everyone, and some people will need to make sure they can take fexofenadine with their doctor beforehand. Below we list who should not take fexofenadine, always read the label and packaging as well for further information.
Not suitable for children under 12 years of age.
Do not take it if you are allergic to Fexofenadine or any of the other ingredients in this medicine.
Do not take if you have epilepsy or another health condition that puts you at risk of seizures or fits.
If you have or ever have had liver problems, kidney problems, or heart disease - speak to your doctor or pharmacist before taking fexofenadine.
If you are elderly, pregnant or breastfeeding - speak to your doctor or pharmacist before taking fexofenadine.
Can I take two fexofenadine 180 mg?
The 180mg dosage for adults can be taken once a day maximum. Contact your doctor for any questions on dosage or if the tablet is not effective in managing your symptoms.
Where can I get Fexofenadine?
Fexofenadine used to be a prescription-only medication, however, certain doses are now available over-the-counter in certain pharmacies and shops. You can buy 120mg tablets from pharmacies and supermarkets. You can also buy 180mg tablets for treating hives from pharmacies. They can also be ordered from online pharmacies, and find out more about how to buy medicines online safely.
Buy fexofenadine at Weldricks Pharmacy online.
Fexofenadine Side Effects
Fexofenadine can cause side effects like any medication. It is classed as a non-drowsy antihistamine, but some people can still feel sleepy when taking fexofenadine. Other common side effects include headaches, feeling sleepy, dry mouth, feeling sick and dizziness. Talk to your doctor or pharmacist if you are experiencing side effects. Read the label and packaging for further details on side effects and potential side effects.
It is rare to have a serious side effect, but if you get a fast or irregular heartbeat then go to 111.nhs.uk or call 111 for advice immediately.
When should I go to the doctor about my allergies or hayfever?
You should always go to your doctor if you believe you are experiencing allergies or hayfever symptoms. They are experienced and will be able to provide you with a treatment plan or antihistamine which is suitable for your symptoms. They are also able to complete allergy tests to find out what is causing the reaction in your body, as well as its severity.
If you are taking fexofenadine, or other antihistamine such as piriton or piriteze, and are still experiencing symptoms - you should also speak to your doctor or a pharmacist.
Considerations
Fexofenadine is usually taken once a day. If you are unsure about dosage, please discuss with your doctor or a pharmacist beforehand.
Do not exceed the stated dose.
If symptoms continue or there seems to be no effect, consult your doctor.
Keep out of the sight and reach of children.
Fexofenadine is categorised as a non-drowsy antihistamine, but this does not mean that people do not feel sleepy when taking fexofenadine. Some people will find it makes them sleepy.
If you do feel sleepy or dizzy while taking fexofenadine, you should not be driving or operating machinery. Consult with your doctor for an alternative antihistamine.
There are common side effects including headaches, feeling sleepy, dry mouth, feeling sick and dizziness.
The NHS recommends not to drink grapefruit juice, apple juice or orange juice while taking fexofenadine as you might be more likely to experience side effects.
The NHS also recommends not to drink alcohol while taking fexofenadine because it can make you feel sleepy.
Find out more
If you have more questions about fexofenadine, please visit in-branch at a local pharmacy or contact us. If you are wanting to buy fexofenadine, check out Treathay's fexofenadine products online today.