Spring Bank Holiday and Platinum Jubilee Online Customer Service Opening Times:
Thursday 2nd June: 9am - 12noon
Friday 3rd June: Closed
Workplace First Aid - Everything you Need to Know (Updated 2020)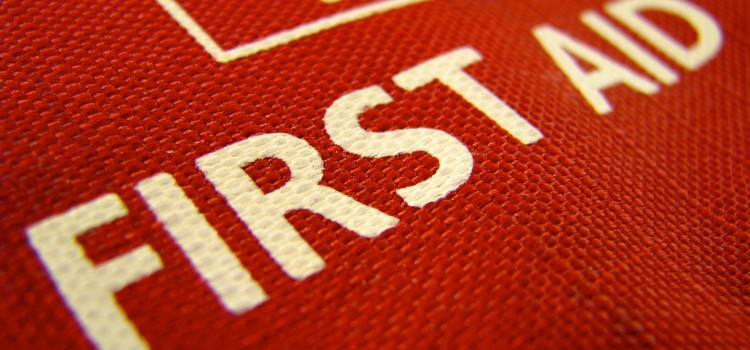 Published: 22nd September, 2016 in: Health Advice
Health and safety should be a priority in every workplace. Having a workplace first-aid plan in place helps to keep both you and your employees safe. Many people ask what are the requirements when it comes to workplace first aid. Even though there are laws which need adhering to, such as the Health and Safety at Work etc. Act 1974, first aid box requirements can vary from company to company. Requirements are dependent on the size of the company, style of work, hazards involved, as well as many other factors. There are some things that all companies should do however, in order to help ensure the safety of employees in the workplace.
With this in mind, let's take a look at some of the main requirements for delivering first aid at work.
What Should be in a First Aid Box at Work?
All workplaces are required to have a fully equipped first aid kit on-site, easily accessible by employees should an injury occur. The Health and Safety (First Aid) Regulations 1981 states that a first aid kit in the workplace must be adequately and appropriately stocked with suitable first aid equipment. What is considered a suitable first aid kit is determined by the business itself. If employees work in a high-risk environment, a first aid kit should include items specialised to that environment however, these additional items may not be necessary for a low-risk workplace such as an office. Below we discover the items that should be included in all workplace first aid boxes as a minimum; additional items should then be included based on the workplace's associated risks.
Minimum Requirements for First Aid Kits for Work
As the minimum first-aid provision on any site is an adequately stocked workplace first aid kit, it is important to know what is meant by 'adequately stocked.' As an employer, you have to be prepared for anything from scratches and burns to electric shocks and infections. In order to be prepared to treat minor injuries at work, there are certain items that all first aid kits should include:
First aid guidance leaflet offering helpful advice and instructions
20x sterile, individually wrapped plasters
2x sterile eye pads
4x individually wrapped, sterile, triangular bandages
6x safety pins
2x large, individually wrapped, sterile, unmedicated wound dressings
2x medium, individually wrapped, sterile, unmedicated wound dressings
Although you can create your own workplace first aid kit, the quickest option is to buy a fully-stocked first aid kit for business that has everything you need already in it. Qualicare Premium First Aid Kit caters for between 1 and 50 people and includes all of the items mentioned above. This way you can be certain that you're prepared to treat minor injuries at work and carry out emergency first aid if necessary before medical help arrives.
Appointing a Designated First Aid Person
Just as all businesses are required to have a suitably stocked first aid kit in the workplace, they must also appoint a person to look after first-aid arrangements. Many business owners think that they have to have a trained first aider on site however, this is not always the case. A common question asked is 'how many first aiders do I need?' The answer to this is not simple. It once again depends on the size of the business and the hazards involved. The minimum requirement for any business however, is to have an appointed person to look after first-aid arrangements.
This person will be responsible for taking control of all first aid situations that may present themself within the workplace. In the event of an accident in the workplace, this person should know first of all where the workplace first aid kit is located, and secondly how to use all of the items in the box. This person will also be responsible for replenishing supplies when they run low. Ideally, they will be first aid trained however, as previously mentioned this is not always necessary.
There must always be a designated first-aid person on site therefore, it is likely that you will need more than one designated person in order to cover holiday or illness. Many businesses choose to have a trained first aider on site who will then be covered by an appointed person without formal training, should they be off work for any reason.
Informing your Employees
Informing your employees of the first aid provisions in place is essential. This is paramount so that if an employee injures themselves or falls ill, people know who to inform and where the emergency equipment is located. Information should be communicated to employees, not only verbally, but also in the form of posters. This will help to give constant reminders to employees on who they should approach if first aid in the workplace is required.
You should ensure that your workplace first aid kit is located in a place that is easily accessible and that the contents of the box meet the needs of every employee, taking into account the specific hazards associated with each area of the workplace.
So there you have it, everything you need to know to help keep your employees safe at work. The health and safety of employees is a priority for all business owners; having a good workplace first aid plan in place ensures that your business is prepared for almost any emergency first aid situation.
Find out more about first aid kits and safety products offered by Weldricks today!