Absorbine Embrocation Liquid 475ml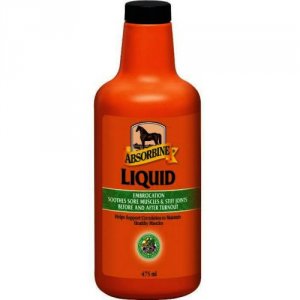 Absorbine Embrocation Liquid 475ml
£8.90
This product is typically dispatched within 3-5 working days from date of order and is not suitable for our next day delivery service.
Brand: Absorbine
Code: 9992367327
Weight: 500g (includes packaging)
Description
Absorbine Embrocation is a soothing blend of natural herbs and oils for the temporary relief of soreness in muscles, joints and tendons.
Directions
For Legs & Joints: Apply to sore areas. May be applied two or more times a day.
Muscle Soreness: Apply to desired areas and cover with blanket. May be repeated two or more times a day if needed.
To create a body wash: mix 4 oz. of Absorbine Embrocation Liquid and 8 oz. vinegar with 24 oz. of water.
Hoof Disinfectant: Apply once a week to help prevent bacterial and fungal infections.
Use daily to treat hoof conditions such as abcesses, cracks, delamination, thrush and white line disease.
Skin Infections: Apply to affected area three times a week.
Can also be used for Arthritis, Warm ups and post work outs.
Warnings
Keep out of reach of children. Replace cap firmly. For external use of livestock only. Avoid contact with eyes or mucous membranes.
Do not apply to irritated skin. If excessive irritation develops, discontinue use and consult a veterinarian. In long standing cases or those not responding to treatment, or in case or deep wounds, consult a veterinarian.
If you rub, don't wrap.
Extremely flammable! Keep away from fire, sparks and heated surfaces.
Ingredients
Menthol 1.27%, Chloroxylenol 0.50%, Iodine 0.02%.
Aqua (water), plant extracts of Celendula, Enchinaccea and Wormwood, Acetone, FD&C Clue No. 1, FD&C Yellow No. 6, Potassium Iodide, Thymol, Wormwood Oil.
You may also like