Actifed Multi Action Chesty Coughs Liquid 100ml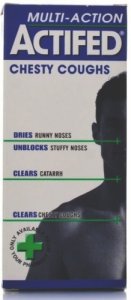 Actifed Multi Action Chesty Coughs Liquid 100ml
£3.29 Save: £1.51 RRP: £4.80
Due to legal restrictions, Pseudoephedrine containing products are limited to a total of 720mg. Products that contain Pseudoephedrine cannot be purchased at the same time as Ephedrine containing products.
This product is limited to 1 per order.
This product is typically dispatched within 3-5 working days from date of order and is not suitable for our next day delivery service.
Brand: Actifed
Code: 0074815
Weight: 110g (includes packaging)
Description
Actifed Multi-Action Chesty Coughs relieves the symptoms of colds and flu including runny nose, watery eyes, nasal congestion, blocked sinuses and a chesty cough. It contains:
Guaifenesin (an expectorant) to help loosen mucus (phlegm) from the lungs and make it easier to cough up;
Pseudoephedrine (a decongestant) to help reduce nasal and sinus congestion and clear catarrh; and
Triprolidine (an antihistamine) to help stop sneezing, runny nose and watery eyes
Directions
Adults and children over 12 years:
Take two 5 ml spoonfuls every 4 to 6 hours up to 4 times a day (Maximum daily dose: 40 ml).
Children aged 6 to 12 years:
Take one 5 ml spoonful every 4 to 6 hours up to 4 times a day (Maximum daily dose: 20 ml).
Not recommended for children under 6 years of age.
Warnings
You must see a doctor if your symptoms worsen or do not improve.
If you have taken more than you should, talk to a doctor or pharmacist immediately.
Do not take a double dose to make up for forgotten individual doses.
You should carefully read all product packaging and labels prior to use
Although pseudoephedrine has virtually no pressor effects in normotensive patients, Multi-Action Actifed Chesty Coughs should be used with caution in individuals suffering mild to moderate hypertension.
As with other sympathomimetic agents, Multi-Action Actifed Chesty Coughs should be used with caution in individuals with heart disease, hyperthyroidism, diabetes, elevated intra-ocular pressure or prostatic enlargement.
Multi-Action Actifed Chesty Coughs should not be used for persistent or chronic cough, such as occurs with asthma, or where cough is accompanied by excessive secretions, unless directed by a physician.
Multi-Action Actifed Chesty Coughs may cause drowsiness and impair performance in tests of auditory vigilance. There is individual variation in response to antihistamines.
Caution should be exercised when using the product in the presence of severe hepatic impairment or moderate to severe renal impairment (particularly if accompanied by cardiovascular disease).
Ingredients
Active ingredients: Guaifenesin 100 mg, pseudoephedrine hydrochloride 30 mg and triprolidine hydrochloride 1.25 mg in each 5 ml spoonful.
Other ingredients are: Sorbitol solution, sucrose, sodium benzoate (E211), methyl hydroxybenzoate (E218), sunset yellow (E110), alcohol, flavouring FC 900853, menthol and purified water.
You may also like