Benefiber Powder 155g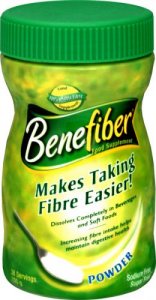 Benefiber Powder 155g
£4.59 Save: £1.84 RRP: £6.43
Brand: Benefiber
Code: 3286978
Weight: 155g (includes packaging)
Description
Benefiber Powder dissolves completely in water and is easily added to the things you normally eat and drink.
Dietary fibre is important for maintaining a healthy digestive system. However, on average we consume less than half the recommended daily amount of fibre in our diet.
Benefiber Powder gives you the freedom to add fibre to your diet any way you choose. Learn how easy it is to mix taste-free, non-gritty Benefiber Powder into the things you normally eat and talk to your doctor about how to get more fibre into your diet.
Texture
Unlike most other bulk fibre powders, Benefiber Powder is grit-free and non-thickening.
Taste
Benefiber Powder is taste-free, so you can add it to your beverages or meals without altering the taste.
Versatility
Add Benefiber Powder to beverages† (hot or cold) or soft foods that you normally eat. With Benefiber Powder, you have the freedom to take your fibre any way you choose.
Convenience
Benefiber Powder can help supplement your daily fiber intake easily and naturally. Each serving of Benefiber Powder provides 3 grams of soluble fibre, and for your convenience, Benefiber Powder is available in various sized canisters and pre measured stick packs for individual servings.
Directions
Stir 2 teaspoons of Benefiber into 4-8 oz of any beverage or soft food (hot or cold). Stir well until dissolved.
Adult and Children from 12 years:
2 teaspoons, 3 times daily
Children age 6 to 11 years:
1 teaspoons, 3 times daily
Children under 6 years:
Ask your doctor before use
Warnings
If you are pregnant or nursing a baby, ask a health professional before use.
You may also like