Brother Max Non Contact Thermometer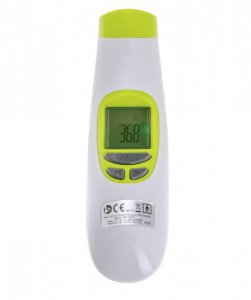 Brother Max Non Contact Thermometer
Description
As some little ones don't like to be disturbed to have their temperature taken, especially when they are asleep, the Brother Max Non-Contact Thermometer allows you to take a touch-free forehead temperature reading! Simply hold close to the forehead and press the button for a fast and accurate digital temperature reading to 0.2º in just 1 second. For easy reference, the temperature range alert light will display red, orange or green to indicate if the temperature is in the normal, raised or high range. As this thermometer doesn't touch the skin, there is no need to use probe covers.
The LCD display has a backlight for easy reading at night time. A memory stores the last 19 temperature readings to refer back to.
A mute button removes sounds to avoid disturbing little one.
You can also use this thermometer to measure the ambient room temperature, ideal for keeping an eye on the temperature in the nursery.
Ingredients
There are no ingredients listed for this product.
You may also like