Care Itcheze Spray Gel 120ml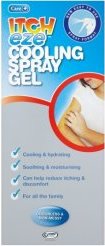 Care Itcheze Spray Gel 120ml
Description
How it's different
Many existing products tend to be smelly, mess, old-fashioned creams that come in small, expensive packs, are not suitable for children and have no long-lasting effect.
Care Itcheze Cooling Gel is different. It is an innovative new product that is family-friendly.
It works without fuss, doing what its name suggests, using cutting-edge technology to help soothe, cool & moisturise skin that is irritated, superficially reddened or is prone to dryness and itchiness.
Why it works so well
Care Itcheze Cooling Gel contains Osmocare, a unique patented technology.
It works through a process called osmosis to draw water from the inner layers of the skin to re-hydrate the surface layers.
This generates a cooling effect that soothes the skin and can help reduce itching & discomfort.
What makes it revolutionary
Care Itcheze Cooling Gel is unique.
It has an all-round performance that many existing products cannot match.
Rapid cooling effect
Easy to use, non-messy and odourless
Gel provides long-lasting moisturising benefits
Quickly absorbed and avoids staining clothes
Can be used on both face & body
Can be used for children as young as 6 months
A 'must' as a holiday essential.
Directions
Wash and dry hands before use. Spray the gel sparingly onto the affected area and rub into skin. Apply two or three times a day or as required.
Warnings
Do not use if you are allergic to any of the ingredients listed.
For external use only.
Avoid contact with eyes. If it accidentlly comes into contact with your eyes, flush with water.
Do not use on broken skin.
Do not spray directly onto the face.
Do not breathe the spray.
Ingredients
Aqua, Glycerin, PEG-8, Caprylyl Glycol, Carbomer, Sodium Polyacrylate, Sodium Hydroxide
You may also like