Colgate Plax Sensitive Mouthwash 500ml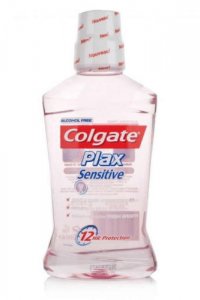 Colgate Plax Sensitive Mouthwash 500ml
Description
Colgate Plax Sensitive Mouthwash is a gentle care mouthwash for sensitive teeth and gums. And just like Plax, it offers the same 12 hour protection against plaque and bacteria.
Gentle care for sensitive teeth & gums
Effectively kills germs
Deliver noticeable fresh breath
12hr protection against bacteria & plaque
Clinically tested by dentists
Contains fluoride for cavity protection
Sensitive alcohol free mouthwash
Colgate Plax Sensitive has a unique formula developed for people with sensitive teeth & gums. Use it twice a day for a healthier, fresher mouth.
Forms a protective shield to neutralise the harmful effects of bacteria and plaque for 12 hours
Start your day with great fresh breath, protecting your mouth from bacteria & plaque for up to 12 hours.
Finish your day with Colgate Plax to help ensure better oral health & a fresher start for the following morning.
Directions
Use Colgate Plax twice a day after brushing and give yourself the oral health you deserve.
Use 15ml, approximately half a cap, rinse thoroughly for 30 seconds and sit out.
Do not dilute.
Warnings
Not to be used by children under 6 years of age.
Keep away from reach of children.
Do not swallow.
Do not use if cap seal is broken.
Ingredients
Aqua,Glycerin, Sorbitol, Propylene Glycol, Sodium Phosphate, Polysorbate 20, Potassium Citrate, Sodium Benzoate, Aroma, Disodium Phosphate, Cetylpyridinium Chloride, Sodium Fluoride, Sodium Saccharin, Limonene, CI 17200.
Contains: Sodium Fluoride 0.05% (225 ppmF¯)
You may also like