Ensure Twocal Neutral 200ml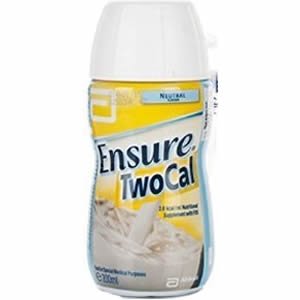 Ensure Twocal Neutral 200ml
£2.79
This product is typically dispatched within 3-5 working days from date of order and is not suitable for our next day delivery service.
Brand: Ensure
Code: 3463122
Weight: 275g (includes packaging)
Description
Ensure TwoCal is a 2.0kcal/ml, high-protein, milkshake style oral nutritional supplement for people with, or at risk of developing, disease-related malnutrition.
Ensure TwoCal is very high in calories and protein, which can be beneficial for people who have increased nutritional needs, for example, to help with wound healing. It can also be helpful for people who can only eat small amounts at a time, or for people who are fluid restricted.
Directions
Ensure TwoCal is generally best served chilled and can be frozen into cubes and lollipops. The neutral variety can be flavoured with milkshake powder, coffee or cocoa. Ensure TwoCal can also be mixed with packet soup, or used instead of milk in drinks, on breakfast cereals and in puddings.
Warnings
Not suitable for children under 1 year of age
Use with caution in children under 6 years of age
Not suitable for people with galactosaemia
Not for parenteral (intravenous) use
Ingredients
Water, corn surup, maltodextrin, milk protein isolate, high oleic, sunflower oil, sucrose, soy oil, sodium caseinate (milk protein), fructooligosaccharides, canola oil, magnesium chloride, emulsifier, E322 (soy lecithin), flavouring, sodium citrate, potassium citrate, potassium phosphate dibasic, magnesium sulphate, choline chloride, calcium carbonate, citabim C, potassium chloride, taurine, L-carnitine, ferrous sulphate, zinc sulphate, citric acid, niacin, calcium pantothenate, maganese sulphate, copper sulphate, citamin B2, thiamin (vitamin B1), riboflavin (vityamin B3), citamin A palmitate, folic acid, sodium molybdate, chromium chloride, sodium selenate, potassium iodide, biotin, vitamin K, vitamin D, vitamin B12.
You may also like