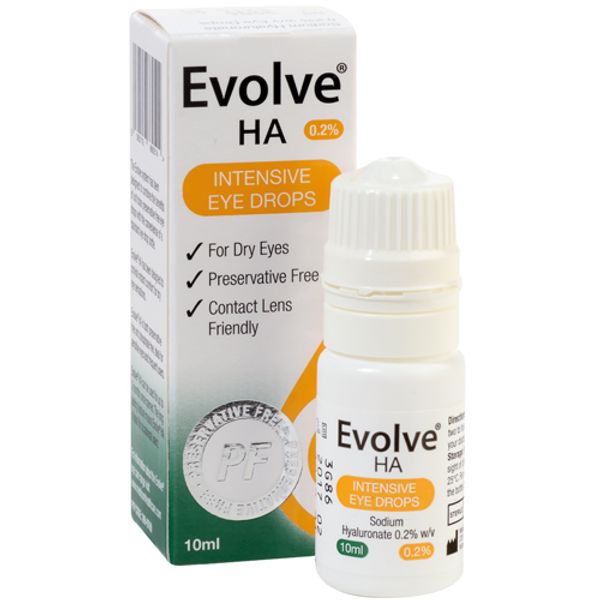 Evolve HA 0.2% Intensive Eye Drops 10ml
This product is typically dispatched within 3-5 working days from date of order and is not suitable for our next day delivery service.
Description

Evolve ® HA is an eye drop containing Sodium Hyaluronate 0.2% w/ v in a 10ml preservative free multi dose bottle. The Evolve system has been designed to combine the benefits of unit dose preservative free eye drops with the convenience of a standard eye drop bottle.

Evolve® is an innovative technology that delivers a preservative-free, sterile eye drop from a multi-dose container. It is generally agreed that the elimination of preservatives in eye care products provides patients better therapy.

Evolve® HA are soothing eye drops intended for use in the relief of discomfort that arises from dry eye sensations. They provide soothing relief for sore eyes from grit, itchiness and other foreign body irritations.

Dry eye sensations may also be produced by use of TVs and computer screens, infrequent blinking, certain medical treatments including refractive laser eye surgery, atmospheric pollution and drying atmospheres e.g. air conditioning, central heating, wind and sun.

Evolve® HA is compatible with all contact lenses and can be used for up to 3 months once opened. The long-lasting feature means Evolve® HA is ideal for occasional users and is both preservative free and phosphate free, ideal for sensitive eyes and frequent users.
Directions

Place one drop of Evolve® HA into each eye two to four times a day.
Warnings

Keep out of the sight and reach of children.

For external ophthalmic use only.
Ingredients

Key ingredients: Lubricant(s): 0.2% Sodium Hyaluronate.

Full ingredients: Sodium Hyaluronate, Sodium Chloride, Boric Acid, Borax and Water for injections.
You may also like