Floravital Herbal Iron Extract 250ml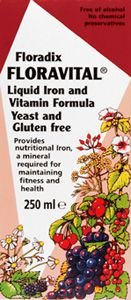 Floravital Herbal Iron Extract 250ml
Description
Flovital is a liquid iron formula which can be enjoyed by anyone whose diet may be lacking in natural iron and vitamins.
Flovital can be particulary benefical to women (including expectant and lactating mothers), girls, growing children and adolescents, the elderly and those taking part in active sports.
Directions
Shake bottle well before use.
Use the measuring cap provided.
Adults and children over 12 years:
10ml twice daily approx.
30 minutes before morning and evening meals.
Children 6 - 12 years:
10ml once daily.
Children 3 - 5 years:
5ml once daily.
The indicated recommended daily dose should not be exceeded.
Food supplements should not be taken as an alternative to a balanced diet.
Warnings
Do not drink directly from the bottle.
This product does not contain alcohol or chemical preservatives.
To prevent the contents from spoiling, once opened close the bottle after every use, store upright in the refridgerator and consume within 4 weeks.
Keep out of reach of young children.
You may also like