HealthAid 2 Day Detox Plan 100ml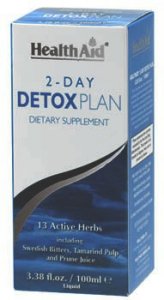 HealthAid 2 Day Detox Plan 100ml
£6.69 Save: £2.30 RRP: £8.99
Brand: Healthaid
Code: 2991065
Weight: 110g (includes packaging)
Description
*** PLEASE NOTE: WE HOLD LIMITED STOCK OF THIS PRODUCT AND MAY INCUR A 3 - 5 WORKING DAY LEAD TIME FOR MORE STOCK TO ARRIVE. IF YOU REQUIRE FURTHER INFORMATION PLEASE CONTACT OUR CUSTOMER SERVICE TEAM (www.weldricks.co.uk/customer-care) ***
What Is the 2-Day Detox Plan Liquid?
2 Day Detox Plan offers you help with detoxification, which is a normal body process to eliminate or neutralise toxins in the colon, liver, kidneys, lungs, lymph and skin. The 2-Day Detox Plan offers cleansing and purifying properties to the body, which is convenient after excessive alcohol intake or consumption of non-healthy fatty foods. It contains scientifically selected herb extracts and powerful antioxidants, which have a specific action on the body to help eliminate toxic waste, keeping you clean and healthy.
Who is the 2-Day Detox Plan Liquid for?
The 2-Day Detox Plan Liquid may be of benefit to:
People who want a quick and easy detox plan for the whole body.
Those who may have been drinking to excess and eating fatty foods
Those who want to give the liver plus other essential organs some care through cleansing and detoxifying.
People who wish to give themselves an energy boost
Directions
Adults and children over 12 years of age:
Two large tablespoonfuls (approx. 20ml) in a glass and diluted with 30- 40ml of water or fruit juice.
For best results use over two days, take three times on day ONE and twice on day TWO and drink plenty of water.
Warnings
Avoid excessive sugar, alcohol and fatty foods during the course.
KEEP ALL MEDICINES OUT OF REACH AND SIGHT OF CHILDREN.
ALWAYS READ THE LABEL.
Ingredients
Aqua, Tamarind pulp, Milk thistle, Dandelion root, Fennel seed, Liquorice root, Oregon grape root, Birch leaf, Burdock, Artichoke leaf, Yellow dock root, Meadowsweet herb, Concentrated prune juice, Swedish bitters (preserved in an ethanol solution)
You may also like