Lemsip Cough Dry 100ml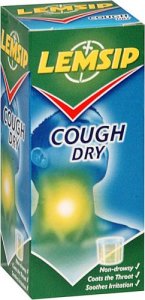 Lemsip Cough Dry 100ml
£3.15
This product is typically dispatched within 3-5 working days from date of order and is not suitable for our next day delivery service.
Brand: Lemsip
Code: 0280347
Weight: 110g (includes packaging)
Description
Lemsip cough dry linctus contains glycerol, honey, syrup, citric acid and lemon oil as the active ingredients. It is used to relieve a dry, tickly cough.
The linctus works by coating the back of the throat, producing a soothing effect. It may also offer some protection to the throat from irritants such as smoke or dust particles.
Directions
For oral use
Adults and children 12 and over:
2 x 5ml spoonfuls (10ml) per dose
3 or 4 times daily
Children under 12:
1 x 5 ml spoonful per dose
3 or 4 times daily
Do not exceed the stated dose

If symptoms persist consult your doctor
Warnings
If symptoms persist consult your doctor.
If you have any of the following symptoms you should consult your doctor so that your cough can be investigated further: coughing up phlegm that is green, rusty brown, yellow, blood-stained or foul smelling; shortness of breath, wheezing or difficulty breathing; chest pain; pain and swelling in your calf; sudden loss of weight; recurrent night-time cough; or a long-term persistent cough.
Do not take this Lemsip Cough Dry if you are:
Intolerant to sugars
Diabetic - please note that each 5ml contains 3.7g of sugar
Pregnant or breast feeding - speak to your doctor before taking this medicine
This product contains ethanol alcohol which may be unsuitable for use in some patients, particularly those with epilepsy, brain damage or liver disease who cannot tolerate alcohol.
Side-effects: Tell your doctor if you have any side effects after taking this medicine
Ingredients
Honey 0.50g, syrup B.P. 3.75ml, glycerol Ph Eur. 0.25ml, citric acid Ph. Eur. 0.025g and lemon oil (terpene free) B.P. 0.0005ml,
Includes sucrose (sugar) and 1% alcohol
You may also like