Loyon Baby Solution 15ml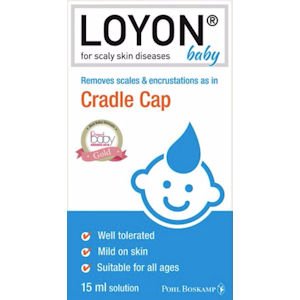 Loyon Baby Solution 15ml
£7.59 Save: £1.40 RRP: £8.99
This product is typically dispatched within 3-5 working days from date of order and is not suitable for our next day delivery service.
Brand: Loyon
Code: 3997194
Weight: 150g (includes packaging)
Description
Loyon is a unique, patented combination of the dry emollient Cetiol CC and the medical silicone oil Dimeticon. The compound together gives Loyon a low surface tension as well as high creep and spreading properties. The liquid is therefore very easily applied and allows a gentle yet effective lifting of scales. Loyon is a certified Class IIa medical device with purely physical method of action. It is applied externally onto dry skin and doesn't burn, stick or smell. The new keratolytic agent is therefore especially easy to apply. It removes scales especially gently, eg; for use in the treatment of psoriasis or atopic dermatitis, and is also suitable for use during pregnancy, for babies or elderly patients.
Cradle cap is a skin condition which affects around 10% of babies and usually appears within the first three months of the infant's life. Scales and crusts which are yellow to red are formed on the scalp and may spread to the nape of the neck or even the face. The crusts resemble burnt milk; this is where the term milk scurf comes from. As a general rule, cradle cap is harmless. Treatment is advisable especially when the liquid underneath the scales accumulates, causing severe itching, often combined with an unpleasant smell. Treatment prevents scratching and therefore injury to the skin and resulting infection. Loyon is suitable for lifting the crusts by massaging it gently into the baby's or toddler's scalp in the evening. On the following day, Loyon can be washed off with a mild shampoo.
Easy and quick application
Loyon is spread directly onto dry skin and lightly massaged in. The liquid consistency of Loyon makes it easy to spread it on the dry skin, even on very rough scaly areas of the skin. The keratolytic agent is pleasant to apply: it doesn't sting or stick, is free from odour and colour and leaves a pleasant feeling on the skin.
Different application devices for an individual application
With the aid of two application devices Loyon can be applied very individually. Depending on the part of the body where Loyon is being applied, the pipette or the spray nozzle can be used. Both can be easily screwed on to the bottle. With the help of the pipette and thanks to the liquid consistency of Loyon it can be easily applied to hairy areas of the body or onto the scalp. The pipette is also very suited for applying Loyon specifically to confined or smaller areas of scaly skin. The spray nozzle on the other hand is especially suited for the fast and efficient coverage of larger skin areas.
Simply leave on overnight
Keep in mind that Loyon is very efficient and start off using only a small amount. The liquid absorbs quickly and after a few minutes, no residues are noticeable. Loyon should be left on for around three hours. It can also remain on the skin overnight. Afterwards it can be washed off with a mild shampoo or a wash lotion.
Directions
Apply Loyon onto dry skin and gently massage in.
Leave on for 3 hours (or overnight if time allows).
Wash off with a mild shampoo.
Repeat application as required.
Warnings
Loyon is suitable for all ages and can also safely be used during pregnancy or breast feeding. Moreover, Loyon can also be used in patients with impaired liver or renal function.
Loyon can cause stains when coming into contact with clothing or other sensitive material.
Store below 25°C.
Do not use Loyon after the expiry date stated on the packaging.
Ingredients
Dicaprylyl Carbonate, Dimeticones
You may also like