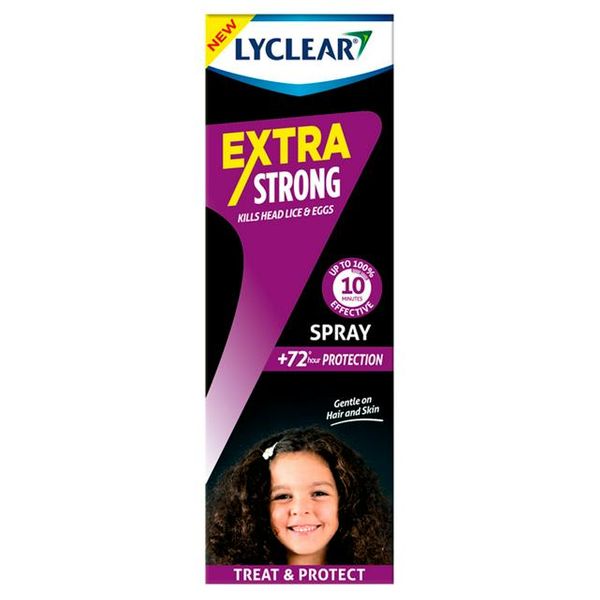 Lyclear Extra Strong Spray 100ml
This product is typically dispatched within 3-5 working days from date of order and is not suitable for our next day delivery service.
Description

Lyclear Extra Strong Treat & Protect Spray has been proven to be up to 100% effective against head lice & eggs in 10 minutes and helps protect from possible reinfestations. Lyclear Extra Strong Spray's formula not only suffocates but also dehydrates head lice and eggs. In addition, its easy to rinse and comb because it does not contain silicone. Its LPF technology helps avoid reinfestation for up to 72hrs*. Due to its mechanical action head lice are less likely to develop resistance to Lyclear Extra Strong Treat & Protect Spray. *LPF protection and Pediculicidal activity was demonstrated by ex vivo data. Lyclear Extra Strong Treat & Protect Spray kills up to 100% of head lice and eggs. Use sufficient product and comb thoroughly to remove all eggs.

+72* hour protection Protection: Lice Protection Factor (LPF) technology makes hair an unpleasant environment for lice, helping to protect from reinfestation for up to 72hrs*.

Clinically proven against "Super Lice"**.

**Suffocates and dehydrates pesticide resistant Lice.
Directions

1) Check dry hair lock by lock for head lice using the enclosed fine toothed anti­lice comb.

2) Shake the bottle before use. Apply a sufficient quantity of Lyclear Extra Strong Treat & Protect Spray directly onto dry hair. Work the lotion evenly through dry hair, from the roots to tips. Be sure to cover all the hair and scalp. Massage well, paying particular attention to the neck and the area behind the ears. Leave it on for 10 minutes to ensure successful treatment of lice and nits.

3) Apply a sufficient amount of a good shampoo all over the hair before wetting it. Now add some water and shampoo thoroughly. Rinse with warm water.

4) Before drying the hair, comb thoroughly with the Lyclear anti­lice comb to remove the lice and eggs. Regularly clean the comb.
Warnings

CAUTION

Avoid contact with eyes and mucous membranes. In case of contact with eyes, rinse thoroughly with water. If eye irritation persist, seek medical advice. Do not use in case of allergy to one of the ingredients. Keep out of reach of children. FOR EXTERNAL USE ONLY.
Ingredients

Mineral Oil, Polyisobutene Lice, Protection Factor