Multi Gyn Compresses Pack of 12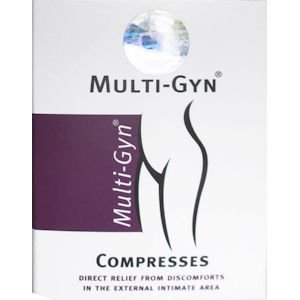 Multi Gyn Compresses Pack of 12
£9.99 Save: £0.21 RRP: £10.20
Brand: Multi-gyn
Code: 3672797
Weight: 58g (includes packaging)
Description
Multi-Gyn Compresses
Direct relief of discomforts in the external intimate area
Strong soothing effect on tissue damage, itch and irritation
Reduces swelling and prevents infection
Supports the natural healing process of the skin tissue
Unique application by soft, protective compress
The efficacy of Multi-Gyn Compresses
Multi-Gyn Compresses have been developed to offer maximum relief of discomforts in the external intimate area such as the labia, vulva (vaginal opening) and the anus. Each compress has been impregnated with a bio-active gel. This natural gel is based on the patented 2QR-complex that blocks the development of bacteria and prevents infection. The outside of the pad is coated with a thin layer of plastic. This creates optimal conditions for the natural healing process and underwear is not stained by the gel. A Compress is placed on the intimate area (vaginal and anal) where it forms a soft protective pad.
Multi-Gyn Compresses are ideal in the prevention and treatment of minor tissue problems such as irritations, rashes, overstretched tissue, minor damages, fissures and haemorrhoids. This product is highly effective, safe and natural. Therefore is it especially suitable to offer relief of discomforts during pregnancy and after childbirth. Multi-Gyn Compresses are a medical device class I with European Registration.
Directions
Open the sachet.
Fold the compress open and place with the impregnated side on the affected area.
Leave the compress in place as long as desired but for at least 10 minutes.
Ingredients
Aloe barbadensis exract, aqua, glycerin, butylene glycol, laureth-9, oleth-20, xanthan gum, aminomethyl propanol, lactic acid, aldioxa, escin, caprylyl glycol, galactoarabinan polyglucoronic acid crosspolymer*
*2AR patented bio=active polysaccharides.
You may also like