Multi Gyn Vaginal Douche Combi Pack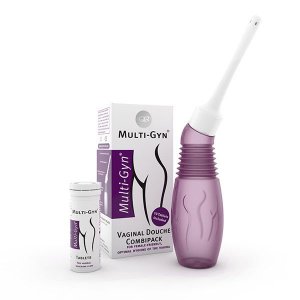 Multi Gyn Vaginal Douche Combi Pack
£11.99 Save: £5.51 RRP: £17.50
This product is typically dispatched within 1-3 working days from date of order when using our standard delivery or 48 Hour Tracked and Signed service.
Brand: Multi-gyn
Code: 3672789
Weight: 112g (includes packaging)
Description
Multi-Gyn Vaginal Douche
For a woman friendly and optimal hygiene of the vagina
Special valve that reduces pressure build-up and creates an ideal flushing effect
Canula makes it impossible to suck back fluids
Flushes clean, efficiently and gently
Can be used in any position: sitting, standing or lying down
The efficacy of the Multi-Gyn Vaginal Douche
Good vaginal hygiene is of key importance in the prevention of vaginal infections such as bacterial vaginosis or candida infection (yeast). Also in case of an existing vaginal infection, intensive hygiene is essential for a fast recovery to a healthy situation.Medical research has proven that it is especially important to clean the fornices next to the uterus from the debris that tends to concentrate itself there and often forms a major hazardous area. In general a vagina with a healthy condition, a normal flora (Döderlein), a natural odour and discharge are of great importance to the well being of a woman.
Vaginal douching offers the most intensive vaginal hygiene and dates back to the days of Cleopatra. Also nowadays a variety of vaginal douches can be found on the market and they form a large market that is often underestimated in size and value.Alas, many of the existing devices are far from optimal and some of them may even be hazardous in their use. The Multi-Gyn Vaginal Douche offers a number of great improvements over all existing designs and therefore is the only Vaginal Douche that has been classified according to the CE directive for a medical device Class I.

The Multi-Gyn Vaginal Douche meets all the requirements and wishes as specified in a large survey amongst women and professionals (gynaecologists and medical doctors). It has been tested in the laboratory and proves to flush (and not spray) clean, efficiently and gently. The canule has a valve that makes it impossible to suck back in any fluids and – even more important – prevents build up of exessive pressure. The canule is smooth and easy to insert and made of a special flexible plastic. Because of the combination of the angle in which the canule is attached to the reservoir and the pliable bottleneck, the Douche can be used in any position; sitting on the toilet, standing under the shower or lying down in a bath.

The result of the design is a practical, woman friendly, highly effective and ergo-dynamic device.
Directions
The douche can be used in various positions - check the detailed instructions contained in the pack.
Warnings
When Multi-Gyn does not improve, but worsen complaints there are the following possibilities:
Allergy; anyone can be allergic to anything. Check by applying Multi-Gyn ActiGel on the inside of the forearm. When an itching red spot appears, allergy can be concluded to one of the components in the gel.
Check for Candidiasis. Multi-Gyn ActiGel is not an antimycotic medication. It counters yeast meaning that the gel can keep infection with candida away, but it cannot cure an infection. FloraPlus is the solution to prevent and treat yeast problems..
1 % of women with complaints have a condition called "lactobacillosis" or "cytolitic vaginosis". This is an overgrowth of lactobacilli. This condition gives a very low pH , below pH 4. Because ActiGel (and very strongly so, FloraPlus) stimulates the growth of lactobacilli, you should not use the products under these circumstances. In this case regular vaginal douching to flush the surplus of lactobacilli out is often a good solution.
The products don't contain hormones or components that have an influence on hormones.
Multi-Gyn ActiGel can be applied externally (labia) and internally (vagina) with the small applicator.
Please note; the vagina is 7-8 cm long. This applicator is therefore long enough to insert the sticky gel into the vagina, where it will spread over the mucous tissues.
The amount is 2 cc = a hazelnut. The tube has 50 ml.
Ingredients
Sodium bicarbonate, citric acid, aloe barbadensis (aloe vera) powder, lactose, ascorbic acid.
You may also like