Nicolites Refills Low Strength Tobacco Flavour Pack of 3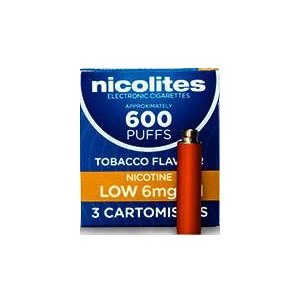 Rebranded as Nicocig
Description
Nicolites Cartomisers Low Strength (6mg) Original Flavour
Each box contains 3 electronic cigarette cartomisers that will each last for up to 20 cigarettes worth of smoking each, Please note these are only compatible with Nicolites Rechargeable Electronic Cigarettes, and will not fit the disposable model.
Regardless of the strength you choose, you're certain to experience significant health benefits. Since electronic cigarettes like the Nicolite contain no tobacco, they're not subject to the smoking ban and can be used anywhere — indoors or outdoor. Finally, e cigs can be as much as 75% less expensive than conventional cigarettes.
Whether you choose the disposable or rechargeable model, it's important to know that the Nicolite cigarette looks very similar to a tobacco cigarette. It's also been carefully designed to deliver an authentic simulation of the smoking experience, but without all the shortcomings. In addition, Nicolites contain none of the 4000 known toxic chemicals and substances found in tobacco smoke. Nicolite even has an extremely realistic appearance, right down to the red, glowing tip.
Imagine — no more need to stand outdoors in bad weather to smoke a tobacco cigarette. Since Nicolite is exempt from the smoking ban, it's ideal for use in places where tobacco is prohibited — indoors or outdoors — including pubs, restaurants, shops, sporting events and many other venues.
How Nicolite Works
An electronic cigarette consists of a realistic-looking housing that contains a cartomiser, which is a device that transforms liquid nicotine into an inhalable vapour. The cartomiser consists of an atomisation chamber and the actual liquid nicotine itself. Nicolite features the latest in e-cig technology that offers efficient and reliable performance. Even its tip glows realistically to heighten the user's vaping experience. Once you've bought the starter kit, only the cartomiser, which is equal to about 20 conventional cigarettes, needs replacing.
More good news: Nicolite is much less expensive than tobacco cigarettes.
Warnings
This product is intended for use by persons 18 or older.
Do not use this product is you are pregnant or breastfeeding, have or are at risk of heart disease, high blood pressure or are taking medicine for depression or asthma. If you have demonstrated sensitivity or allergy to nicotine or any of the ingredients listed, consult your doctor before using this product.
This product is sold as an alternative to smoking and is not a smoking cessation product and has not been tested as such.
Nicotine is highly addictive and habit forming.
Keep out of reach of children.
You may also like