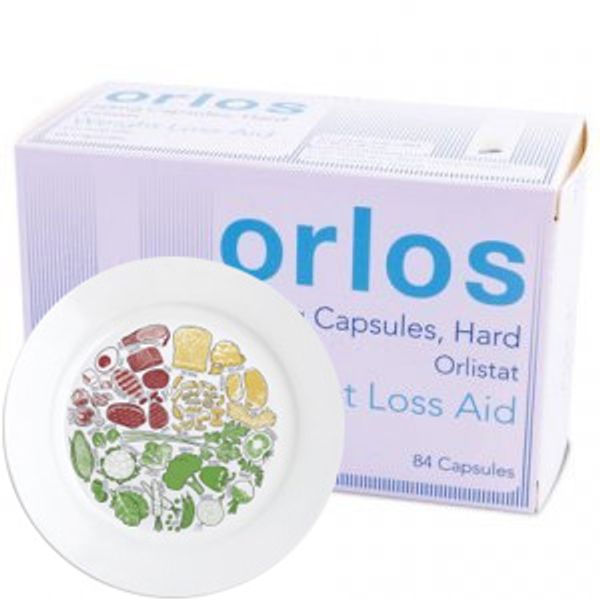 Orlos Capsules Pack of 84 & The Healthy Portion Plate
This product is limited to 3 per order.
This product is typically dispatched within 1-3 working days from date of order when using our standard delivery or 48 Hour Tracked and Signed service.
Description

Orlos is used for weight loss alongside reduced calorie, lower-fat meals in overweight (BMI 28 or above) adults, aged 18 or over.

Orlos is clinically proven to help you lose more weight than dieting alone. The capsules work only in your digestive system to stop about a quarter of the fat in your meals being absorbed. This fat passes out of your body and may cause changes to your bowel movements. Eat lower-fat meals to help manage these effects.

The Healthy Portion Plate is designed as a tool to teach you about appropriate portion control which leads to healthy food choices and successful and sustained weight management.

The plate is made from China and manufactured in the UK and dishwasher safe. It is divided into 3 sections:

½ of the plate salad or vegetables: add colour and variation to your plate and remember Fresh is Best.
¼ of the plate poultry, meat or fish: trim visible fat and remove skin from poultry. Try to have 2 portions of fish per week, one of which should be oily.
¼ of the plate pasta, rice or potatoes: when using The Healthy Portion Plate remember bread will count as one of your carbohydrates NOT in addition to these. Try to have whole grains as a healthier choice.

It's best to grill, bake, microwave, stir fry, steam or poach foods. Use fats and oils sparingly.
Directions

Orlos:

Take one capsule whole with water, three times a day with each main meal containing fat.

Do not take more than three capsules a day.

You should take a multivitamin (containing vitamins A, D, E and K) once a day, at bedtime.

You should not take Orlos for more than six months.
Warnings

Orlos:

Do not use:

If you are under 18 years old
If you are pregnant or breast-feeding
If you are taking Ciclosporin
If you are taking Warfarin or any other medicines used to thin the blood
If you are allergic to Orlistat or any of the ingredients
If you have Cholestasis (condition where the flow of bile from the liver is blocked)
If you have problems absorbing food (Chronic Malabsorption Syndrome)

Talk to your doctor before taking Orlos:

If you are taking Amiodarone for heart rhythm problems
If you are taking a medicine for Diabetes
If you are taking a medicine for Epilepsy
If you are taking medicines for depression, psychiatric disorders or anxiousness
If you have kidney disease
If you are taking a thyroid medicine (Levothyroxine)
If you are taking medicines for HIV

Talk to your doctor or pharmacist when taking Orlos:

If you are taking a medicine for high blood pressure
If you are taking a medicine for high cholesterol
Ingredients

Orlos:

Active ingredient: Orlistat 60mg.

Also contains: Capsule filling: Microcrystalline Cellulose (E460), Sodium Starch Glycolate (Type A), Silica Colloidal Anhydrous, Sodium Laurilsulfate, Capsule Shell: Gelatin, Titanium Dioxide (E171), Indigo Carmine (E132).
You may also like