Perspi Shield Ultra Underarm Sweat Pads Pack of 10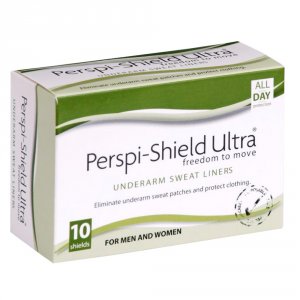 Perspi Shield Ultra Underarm Sweat Pads Pack of 10
Description
Perspi-Shield Ultra Underarm Sweat Liners are an effective, simple solution to stop embarrassing sweat stains appearing on the underarm area of clothing. They have an adhesive backing which attaches directly to your shirt, dress or top to form a water proof barrier between underarm sweating and clothing.
Once attached the self adhesive liners will hold in place and absorb moisture for up to 8 hours (depending on the level of activity and the amount of sweat produced).
Perspi Shield Underarm Liners:
Stop wet patches appearing on clothing

Protects clothing from antiperspirant and sweat marks

New and improved contour shape

Safe on all fabrics – even silk

Comfortable, invisible and silent

For men and women

Disposable
Directions
1. Turn garment inside out to expose the underarm seam of the garment and place on hard, flat surface (ironing board or worktop works great!).
2. Carefully remove the backing paper and place the larger half of the Sweat Liner on the body or lower side of underarm seam and the smaller half of the liner on the sleeve side of underarm seam.
3. Press down evenly and firmly on the liner for 10 seconds then run fingers firmly out to edges to ensure adequate to garment.
Warnings
Do not wash garment with shield in place. Shields are intended to be discarded after each use.
Ingredients
No ingredients listed for this product.
You may also like