Tampax Compak Lites Tampons Pack of 20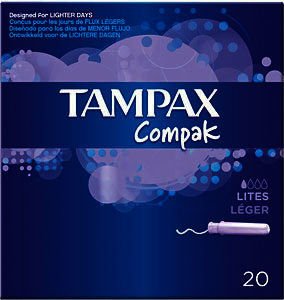 Tampax Compak Lites Tampons Pack of 20
£3.29
Delivery options for this product have been restricted. More details about the delivery options available will appear if you add this product to your basket.
This product is typically dispatched within 3-5 working days from date of order and is not suitable for our next day delivery service.
Brand: Tampax
Code: 3269016
Weight: 100g (includes packaging)
Description
Tampax Compak Lites have been purely designed to keep you clean dry and fresh on those lighter days of a period. Tampax Compak Lites have been superbly designed to boast a smooth retractable applicator which places the tampon in exactly the right position to keep you clean fresh and dry for up to 8 hours per day. Plus as these compakandrsquos are half the size of a regular tampon they will fit snugly and discreetly into even the tiniest of handbags or purses.
What's special about Tampax Compak?
Tampax® Compak gently expands to fit your body's shape, a built in Protective Skirt to help protect against leaks and a smooth plastic applicator that is half the length of a usual Tampax Cardboard applicator, making it twice as discreet to carry. So no one knows...
Tampax Compak wrapper is discreet, stays intact in a purse, and is colored by absorbency.
What are Tampax Compak tampons made out of?
They're made from a combination of cotton and rayon — rayon is a natural cellulose fibre found in trees, and it's actually been used in tampons for more than 25 years! The overwrap, or covering over the tampon's absorbent material, is a common man-made fabric used in tampons, pads, and wipes.
Can I flush the wrapper?
We recommend that the wrapper (and the applicator) be disposed of in the waste.
Can I flush the tampon?
We recommend that the tampon be disposed of in the waste.
Directions
Always use the lowest absorbency for your flow.
Change your tampon every 4 to 8 hours or more often if needed.
Always remember to remove your last tampon.
Warnings
Tampons are associated with Toxic Shock Syndrome (TSS).
This is a rare but serious illness that may be fatal.
Please read and save the leaflet enclosed in this pack.
Ingredients
There are no ingredients listed for this product.
You may also like