Thealoz Duo UD Eye Drops 0.4ml Pack of 30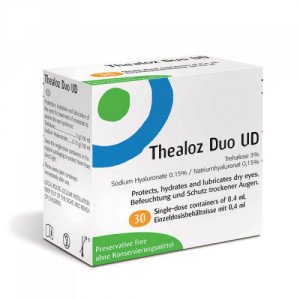 Thealoz Duo UD Eye Drops 0.4ml Pack of 30
Description
Thealoz Duo Eye Drops work by adding moisture to hydrate and lubricate the surface of the eye, as well protecting the cells of the cornea and conjunctiva, giving resistance to dryness.
Directions
Use as often as required throughout the day.
Warnings
If irritation occurs, stop use immediately.
Ingredients
Trehalose, Sodium hyaluronate, Sodium Chloride, Trometamol, Hydrochloric acid, Water.
You may also like