ThermoDr Microwaveable Body Wrap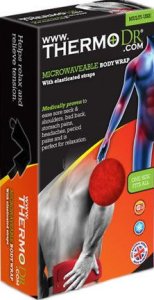 ThermoDr Microwaveable Body Wrap
£6.99 Save: £3.00 RRP: £9.99
This product is typically dispatched within 3-5 working days from date of order and is not suitable for our next day delivery service.
Brand: ThermoDr
Code: 3867090
Weight: 700g (includes packaging)
Description
With the addition of an elasticated strap to keep the Heatpack in place, ThermoDR Body Wrap is made from soft durable fleece fabric, filled with 100% natural, cleaned UK wheat and comes with optional French lavender.
Designed with physiotherapists, the Body Wrap is a non-invasive way of applying heat (or cool) to a choice of body parts in order to assist in the relief of pain and discomfort caused by menstrual periods, migraines, lower back pain and many others.
The natural grains combined with the fresh aroma of the lavender, provides a relaxing aromatherapy effect in addition to the heat healing properties.

Targeted Muscles:

Lower back - Muscle strain is a common cause of lower back strain. The application of Thermotherapy warms the damaged tissue, temporarily increasing elasticity and mobility whereby reducing tightness and spasms.

Upper Back, Neck and Shoulder - Stiffness in the neck, frozen shoulder or general upper back pain is often caused by contractions in the neck and shoulder muscles. Thermotherapy can provide relief by reducing muscle spasms.
Head - Stress, tiredness and muscle tensions are all factors in the cause of headaches. Thermotherapy can reduce muscles spasms, stimulates blood circulation and can change the body's reaction to pain. The increased blood flow is believed to help with pain with the increase in oxygen, proteins and other nutrients to the area in pain.

Dry eye and Blepharitis (inflammation of the eyelid) can be improved by applying heat which makes the oil produced by the glands around the eyes more runny.
Stomach & Abdomen - Period pain, IBS, Colitis can all be painful and uncomfortable. By applying Thermotherapy to the region, the heat encourages increased circulation, assisting in the blood flow and reduction in toxic stagnations.
Warnings
This product can cause burns, avoid prolonged direct contact with the skin.
Take care when removing from the microwave oven.
Do not overheat.
Do not leave any child unattended with this item.
Ingredients
Made from soft durable fleece fabric and filled with 100% natural, cleaned UK wheat.
You may also like