Viteyes 2 plus Omega-3 Softgels Pack of 270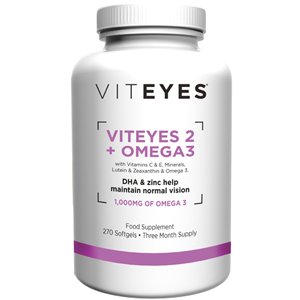 Viteyes 2 plus Omega-3 Softgels Pack of 270
£63.59 Save: £5.41 RRP: £69.00
Brand: Viteyes
Code: 3639358
Weight: 300g (includes packaging)
Description
Viteyes 2 plus Omega-3 offers the ultimate combination of vitamins and minerals for eye health. It combines a formula in line with that recommended by pivotal eye health research conducted at the United States National Eye Institute with omega 3.
The suggested daily intake of 3 softgels contains the formula recommended by this study in addition to omega 3.
If you prefer to take this formula without omega 3, order Viteyes 2 SOFTGELS or Viteyes 2 Advanced.
Viteyes 2 plus Omega-3 provides a high dose of vitamins C & E, zinc, copper as well as 10mg of FloraGLO lutein, 2mg of Optisharp zeaxanthin and 1,000mg of omega 3 (EPA & DHA). Lutein and zeaxanthin which are carotenoids not found naturally in the body, but synthesised from our diet and utilised by the body, especially the eye.
DHA omega 3 and zinc contributes to the maintenance of normal vision
Vitamin C and E contribute to the protection of cells from oxidative stress
Warnings
Pregnant or lactating women or those taking a blood thinning medicine should consult their doctor.
Keep out of the sight and reach of children.
Do not exceed the recommended daily dose.
This product is not intended to diagnose, treat or cure any disease and should not be used as a substitute for a varied, balanced diet and a healthy lifestyle.
Ingredients
Fish oil, gelatin (bovine), vitamin C, yellow beeswax, vitamin E, glycerin, soybean oil, purified water, lutein, lecithin (contains soy), zinc oxide, colour: caramel, zeaxanthin, copper oxide.
You may also like