Spring Bank Holiday and Platinum Jubilee Online Customer Service Opening Times:
Thursday 2nd June: 9am - 12noon
Friday 3rd June: Closed
Sports Injuries: Types and Treatments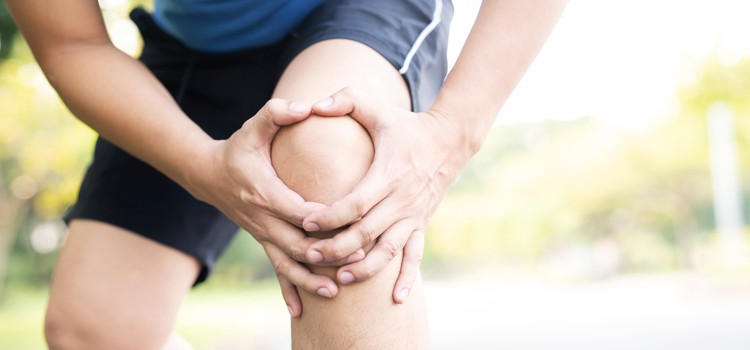 Published: 9th April, 2021 in: Health Advice
Common Sports Injuries and symptoms
Almost any part of the body can be injured, including the muscles, bones, joints and connective tissues (tendons and ligaments). The ankles and knees are particularly prone to injury. Some common sports injuries are:
Ankle sprain – symptoms include pain, swelling and stiffness.
Bruises – a blow can cause small bleeds into the skin.
Concussion – mild reversible brain injury from a blow to the head, which may be associated with loss of consciousness. Symptoms include headache, dizziness and short term memory loss.
Cuts and abrasions – are usually caused by falls. The knees and hands are particularly prone.
Dehydration – losing too much fluid can lead to heat exhaustion and heat stroke.
Dental damage – a blow to the jaw can crack, break or dislodge teeth.
Groin strain – symptoms include pain and swelling.
Hamstring strain – symptoms include pain, swelling and bruising.
Knee joint injuries – symptoms include pain, swelling and stiffness. The ligaments, tendons or cartilage can be affected.
Nose injuries – either a bloody or broken nose, caused by a direct blow.
Stress fractures – particularly in the lower limbs. The impact of repeated jumping or running on hard surfaces can eventually stress and crack bone.
Tips for preventing Sports Injuries
Warming up properly before exercise – read more about how to warm up before exercise and how to stretch after exercising.
Not pushing your body beyond your current fitness level.Using the right equipment – for example, wearing running shoes for running, shin guards for football, and a gum shield for rugby.
Receiving coaching to learn correct techniques.
Tape or strap vulnerable joints, if necessary.
Drink plenty of fluids before, during and after the game.
If you can, to avoid exercising outside during the hottest part of the day, between 11 am and 3 pm.
Ways to help yourself after a sports injury
You can usually treat common minor injuries yourself by resting the affected part of the body for the first 48 to 72 hours to prevent further damage. You can also regularly apply an ice pack to the affected area to reduce swelling. Using painkillers, such as paracetamol or ibuprofen, will also help to relieve pain and discomfort.
Remedies for sports injuries
Back injuries
If you have suffered a back injury from sport, or struggle with your back and still want to play sport, the belladonna plaster is a good option for preventing or relieving pain. Belladonna plasters use natural alkaloids from the Belladonna plant to provide natural relief from aches and pains. Recommended for muscular tension and strains, lumbago and sciatica.
Cuts and abrasions
For cuts and abrasions, often found on the hands and knees after playing sports, treat yourself with Savlon. A key first aid staple, Savlon soothes and cleans the wound, helping skin healing.
Fastaid Plasters Cushioned are also a good option for cuts, being hypoallergenic, waterproof, strong and durable. The padded foam also helps to avoid further pain to the area. Granuflex Bordered Dressing Sterile is great for protecting wounds as well. Used for acute wounds to traumatic wounds (minor abrasions, lacerations), the dressing features a wide outer foam border that does not require additional taping.
Leukoplast Cuticell Classic can be used to treat wounds as well. The low-adherent dressing is made of open weave cotton gauze impregnated with soft paraffin – to facilitate dressing change and to support a moist environment for the wound.
Sprains
In our First Aid Supplies, you can find Actimove supports for knees, ankles, wrists, elbows and thumbs. These orthopaedic supports and braces are reliable in protecting you, whether running a marathon, recovering from an injury, overcoming daily arthritis or dealing with movement pain-related challenges. These are ideal in preventing a sports injury or caring for one.
Scars
Often with sports injuries, you can be left with scars afterwards. It is important to care for these scars with the right products. Octenicare Repair Creme helps alleviate dry skin, supports wound healing, and cares for scars and burns. It also can be used on the genital areas, which can be sensitive. Octenicare contains Panthenol, which supports the natural regeneration of the skin, as well as Bisabolol which works as an anti-inflammatory to soothe the skin.
Dermatix Scar Management Silicone Gel is also a good option to help scars heal. The gel easily applies to most areas of the body, including the face, joints and other parts of the skin. It is clinically tested and proven to soften, flatten and smooth scars, and relieve the itching and discomfort associated with them.
Nose Injuries
It is crucial that when you have suffered a nose injury to seek medical attention, just like any other sports injury. If you continue to suffer with nosebleeds however, you can try Safe & Sound Nosebleed Stoppers, which are designed to plug the nose and stop nosebleeds fast. Safe & Sound nosebleed stoppers are made from highly absorbent material that quickly stops the bleed.
The non-adhesive material won't stick to the nasal wall or leave any lint behind in the nostril, making it easy and pain-free to remove once the bleeding has stopped. Nosebleed stoppers are the perfect solution for anyone prone to a nosebleed or those playing contact sports.
Sun sensitivity
If you're exercising outside during the hottest part of the day (11am - 3pm), it is important to stay hydrated and protect yourself from the sun, as not doing this can lead to sun stroke and heat exhaustion.
Sunsense Ultra Roll On SPF50+ is a light, smooth, easy-to-apply milk that provides a very high sun protection factor and has 4 hours of water resistance. Sunsense is ideal for exercise during a hot day, to protect your skin from sunburn.
Snake Brand Prickly Heat Powder helps with cooling, refreshing and soothing, providing effective relief from itching, prickly heat rash and skin irritation from hot weather.
Delph After Sun Lotion moisturises and soothes the skin after exposure to the sun. The gentle re-hydrating formula with added moisturisers and vitamin E helps prevent peeling and prolongs the life of your tan, reducing the ageing effects of the sun.
Dehydration
Dioralyte Sachets can be used to correct fluid and body salt loss after sports. Dioralyte is a good option after a long day of sports, where you need to rehydrate quickly. However, it is always important to make sure you drink plenty of water during sports and in general.
Weldricks Pharmacy offers a range of sports aids and supplies that can be delivered straight to your doorstep! Explore our sports products now.
Sources
https://www.nhs.uk/conditions/sports-injuries/
https://www.betterhealth.vic.gov.au/health/HealthyLiving/sports-injuries