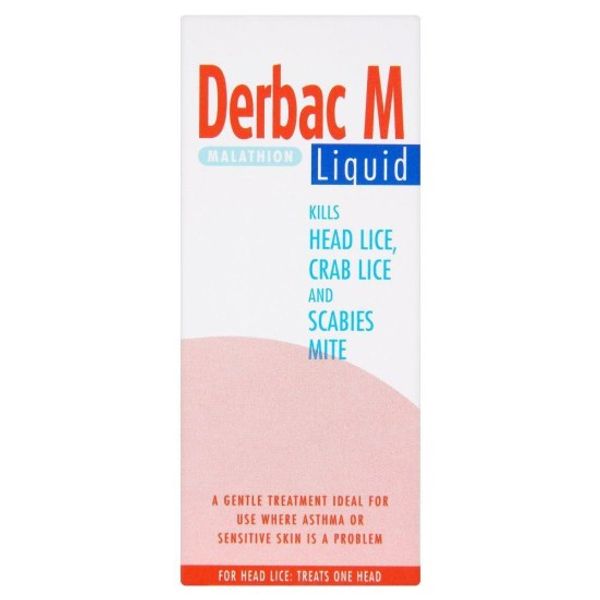 Derbac-M Liquid 150ml
This product is typically dispatched within 3-5 working days from date of order and is not suitable for our next day delivery service.
Description

Derbac-M Liquid kills head lice, crab (pubic) lice, and scabies mite:

Kills Head Lice, Crab Lice and Scabies Mite
Water rather than alcohol based
Can be used on children from 6 months
Ideal where with asthma or sensitive skin is a problem
12 hour application, applied to dry hair

Malathion has been used to treat head lice since the 1960's. Malathion acts by attaching itself to a chemical in the louse's nervous system and stops it working. The nervous system then collapses and the louse dies. It is suitable for children from the age of 6 months as well as sufferers of asthma and sensitive skin.
Directions

Treatment of Head Lice:

Apply sufficient Derbac-M liquid to DRY hair to ensure that no part of the scalp is left uncovered. Work Derbac-M into the hair spreading the liquid evenly from the roots to the tips.

Leave the hair to dry naturally in a warm but well ventilated room. After 12 hours, or the next day, if preferred, shampoo hair in the normal way.

Rinse the hair and comb whilst wet to remove dead lice and eggs (nits).

Treatment of Crab (Pubic) Lice:

Apply Derbac-M Liquid to the entire skin surface. Pay particular attention to all hairy areas including beards and moustaches. Avoid any other areas above the neck. Leave on for at least one hour before washing but preferably Derbac-M Liquid should be left on overnight. Wash off in the usual manner.

Treatment of Scabies:

Apply Derbac-M Liquid to the entire skin surface. In adults it may not be necessary to apply Derbac-M Liquid above the neck but children under the age of 2 years should have a thin film of Derbac-M Liquid applied to the scalp, face and ears, avoiding the eyes and mouth.

Do not wash Derbac-M Liquid off, or bathe for 24 hours. If hands or any other parts must be washed during this period, the Derbac-M Liquid treatment must be reapplied to those areas immediately.

Family members and close contacts should also be treated with Derbac-M Liquid simulataneously.
Warnings

Do not use if you have a known sensitivity to malathion.

Not to be used on infants less than 6 months except on medical advice.

When Derbac M Liquid is used by a school nurse or other health officer in the mass treatment of large numbers of children, it is advisable that protective plastic or rubber gloves be worn. Continued prolonged treatment with this product should be avoided. It should be used not more than once a week and for not more than 3 consecutive weeks.

Infants under six months should only be treated under medical supervision.

No known effects in pregnancy and lactation. However, as with all medicines, use with caution.

Avoid contact with the eyes.

For external use only.

Keep out of the reach of children.

If inadvertently swallowed, a doctor or casualty department should be contacted at once.
Ingredients

Malathion 0.5% w/w, Methyl Hydroxybenzoate, Propyl Hydroxybenzoate, Lanette Wax SX, Potassium Citrate, Citric Acid, Perfume HT 52, Water.
You may also like