HealthAid Digitemp Digital Thermometer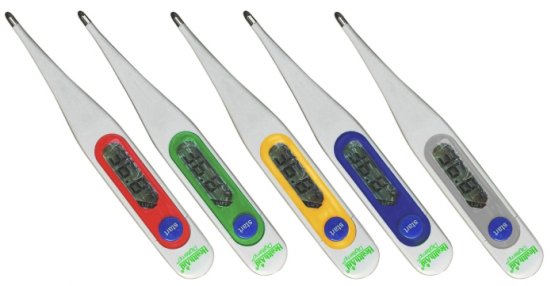 HealthAid Digitemp Digital Thermometer
£5.99 Save: £2.00 RRP: £7.99
This product is typically dispatched within 3-5 working days from date of order and is not suitable for our next day delivery service.
Brand: Healthaid
Code: 2974988
Weight: 175g (includes packaging)
Description
*** PLEASE NOTE: WE HOLD LIMITED STOCK OF THIS PRODUCT AND MAY INCUR A 3 - 5 WORKING DAY LEAD TIME FOR MORE STOCK TO ARRIVE. IF YOU REQUIRE FURTHER INFORMATION PLEASE CONTACT OUR CUSTOMER SERVICE TEAM (www.weldricks.co.uk/customer-care) ***
What Is The Digitemp Digital Thermometer?
How Does Digitemp Digital Thermometer Work?
Press the on/off button. The display will read 188.8
Release the power switch and the display will show L °C
Disinfect the probe with ethyl (rubbing) alcohol. Position the probe (oral,rectal,axillary...etc)
Once the degree sign(°C) on the display has stopped flashing (usually within 40 to 120 secounds), the correct temperature is indicated. The temperature reading will not change after the °C stops flashing. For beeper models only, an alarm signal will sound for approximately 10 secounds when °C stops flashing.
The unit will automatically turn off in 10 minutes (Approx.)
To check memory (for memory models only): Press on/off button and hold button for 5 secounds when the unit is under off state. If you have previously recorded a temperature, will be displayed followed by the last temperature recorded.
Digitemp is a quality, accurate digital thermometer which makes it simple and convenient to take body temperature readings to monitor your health.
NOTES:
Always disinfect the thermometer before you use it. The disinfection in clinic shall be performed by experienced personal. Wash before doing the measurement.
In step 2, If the room temperature is greater than 32 °C, it will be displayed rather than L °C.
In step 3, you may put a sanitary [lastic probe shield on the sensor tip to help prevent cross-infection and recontamination.n Use of the probe cover may result in a .01 °C differance from actual temperature.
RELIABLE METHODS TO MEASURE TEMPERATURE
ORAL USE
Please the probe well under the patient's tounge. Instruct the patient to keep their mouth closed. Anormal temperature by this method is 37°C.
RECTAL USE
If rectal temperature is recommended by your doctor, you may use a probe cover. Insert thermometer into the probe cover. Lubricate the probe cover with a water jelly for easier insertion. Do not use petroleum jelly. Isert tip of probe no more than 1/2 inch into rectum. STOP if you meet any resistance. A normal temperature by this method is about 37.6°C.
AXILLARY USE
Wipe armpit with dry towel. Place probe in the patient's armpit and keep the patient's arm pressed firmly against their side. A normal temperature by this method is 36.7 °C
Children should be attended by adult during the entire temperature recording process. After use, the digital thermometer should be stored in a safe place, out of reach of young children.
If you compare temperatures between two thermometers, it is possible to have two differeant reading even if both thermometers are within thier accuracy tolerances. Differances in how you take each reading.
Directions
Do not boil the probe. instead , clean the unit by wiping it with a dry cloth and sterilize the probe with ethyl(rubbing) alcohol.
Do not drop the thermometer or expose to heavy shock.
Do not bend or bite the probe.
Do not store the unit in direct sunlight, or at a high termometer if it operates erratically or if display malfunctions.
Keep out of the reach of children.
Do not attempt to disassemble the unit except to replace battery.
If the thermometer has been stored at below-freezing temperatures, allow the thermometer to warm naturally to room temperature before using.
CLEANING INSTRUCTIONS:
To clean the thermometer, wash the tip with solution of mild detergent and cool water. (The unit is water resistant.) Disinfect the thermometer by wiping the sensor and lower stem with a cloth dipped in a household antiseptic solution such as rubbing alcohol.
BATTERY REPLACEMENT
When the symbol

1

appeears, the battery needs to be replaced.
Pull the battery cover and the plug off in the direction as shown.
Use a toothpick or insulated probe to remove the battery. Avoid using any sharp metal object in this operation.
Place a new 1.55 VDC button size battery type SR41,UCC392,LR41,192 or equivalent in the chamber with positive side up and the negative side facing down.
Replace and fasten the plue and battery cover securely.
Warnings
KEEP ALL MEDICINES OUT OF REACH AND SIGHT OF CHILDREN.
ALWAYS READ THE LABEL.
You may also like