HealthAid FemmeVit Tablets Pack of 60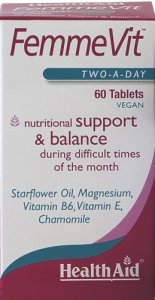 HealthAid FemmeVit Tablets Pack of 60
Description
Suitable for vegetarians and vegans.
Time of the month - let HealthAid FemmeVit help you through.
Full of oestrogen and progesterone balancing herbs such as Agnus Castus and Starflower Oil, it also contains the essential B vitamins which studies have shown reduce the symptoms of PMS.
Pre Menstrual Syndrome (PMS) also known as Pre Menstrual Tension (PMT) is a poorly understood complex of symptoms occurring ten days before the start of each menstrual cycle. PMS is triggered by changes in oestrogen and progesterone levels. Most women and girls experience physical and emotional changes, which can be very unpleasant. There are over 150 symptoms for PMS, some of which are discomfort, cramping, headaches, dizziness fatigue, bloating, breast tenderness, water retention, mood swings and irritation plus many more. At this stage the body requires nutrients to produce and regulate the menstrual cycle and help to relieve the symptoms often experienced.
Healthaid FemmeVit provides optimum nutritional support for women's health and well being and assists them through that difficult time of the month. It is formulated specifically for PMS sufferers and contains all the key ingredients to help reduce and relieve the symptoms.
Femmevit Tablets may be of benefit to:
Women and girls who experience PMT or suffer from PMS
General health and well being of the modern day women
Women who need support to help reduce most of the symptoms of PMS
Those to wish to recover hormone balance in the body system
Women who wish to maintain healthy hair, skin and nails during PMT
Those who wish to help boost the immune system and maintain the nervous system
Women who need an energy boost during difficult times of the month
Directions
Two tablets daily with food (preferably from the middle of the cycle).
Do not exceed recommended daily intake unless advised by a suitably qualified person.
Warnings
KEEP ALL MEDICINES OUT OF REACH AND SIGHT OF CHILDREN.
ALWAYS READ THE LABEL.
Ingredients
Natural Mixed Carotenoids, Vitamin D3, Vitamin E, Vitamin C, Vitamin B1, Vitamin B2, Vitamin B3 (Nicotinamide), Pantothenic Acid, Vitamin B6 (Pyridoxine HCl), Folacin (Folic Acid), Vitamin B12, Iron, Magnesium, Zinc, Iodine, Chromium, Selenium, ParaAmino Benzoic Acid (PABA), Starflower Oil Powder (Borage Oil), Chamomile Extract, Oat Seed Extract (10:1), Ginger Root Extract (20:1), Vitex Agnus Castus Extract (5:1), Di-Calcium Phosphate, Magnesium Oxide, Microcrystalline Cellulose, Starflower Oil Powder (Borage Oil), Natural Mixed Betatene Carotenoids, Vitamin E (D-Alpha Tocopherol), Vitamin C (Ascorbic Acid), Para Amino Benzoic Acid, Chamomile Extract, Ginger Root Extract, Iron (Ferrous Fumerate), Zinc Citrate, Oat Seed Extract, Silica, Vegetable Magnesium Stearate, Agnus Castus Extract, Vitamin B3 (Nicotinamide), Vitamin B6 (Pyridoxine Hydrochloride), Vitamin B1 (Thiamine Hydrochloride), Vitamin B2 (Riboflavin), Pantothenic Acid (Calcium Pantothenate), Vitamin D3 (Cholecalciferol), Chromium Chloride, Folacin (Folic Acid), Iodine (Potassium Iodide), Selenium (Sodium Selenite), Vitamin B12 (Cyanocobalamin), HPMC (Hydroxyl Propyl Methyl Cellulose).
You may also like