Due to an unusually high number of orders being received dispatch times may be longer than stated. Please allow up to 10 working days for dispatch.

We are also experiencing a high volume of calls. Please use our contact us page to leave a message and we will get back to you as soon as possible.
Mepore Film & Pad 5cm x 7cm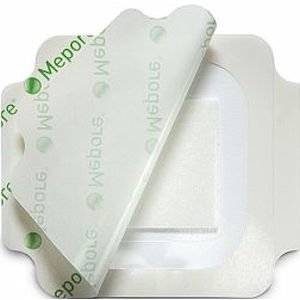 Mepore Film & Pad 5cm x 7cm
£0.49
Brand: Mepore
Code: 3575420
Weight: 50g (includes packaging)
Description
Mepore Film & Pad is an absorbent, breathable transparent self-adhesive film dressing. Mepore pad and film uses a skin-friendly, water-based, solvent-free polyacrylate adhesive provides a gentle and secure fixation. Mepore film and pad conforms to the body contours for comfort. Mepore Film & Pad can be used for wounds with low to moderate exudate levels, such as surgical wounds, cuts and abrasions.
Highly absorbent film dressing.
Suitable for wounds, cuts and grazes.
Shower proof.
Paper frame for easy application.
Comfortable
Directions
Remove the release foil.
Position the dressing. Do not stretch the dressing when applying.
When applying the dressing, remove the paper frames and the two white tabs.
To ensure proper adhesion, put your hand over the dressing for a few seconds.
Warnings
Mepore Film & Pad should not be applied on patients who are sensitive to acrylic adhesive.
Care should be taken to minimize skin tension that can cause mechanical damage to the skin.
The wound should be inspected for signs of infection according to clinical practice.
In case of clinical signs of infection continued use of Mepore Film & Pad should be determined by a healthcare professional.
You may also like